Angel Hair Recipes
Ginger Turmeric Noodle Soup with Chard and Lime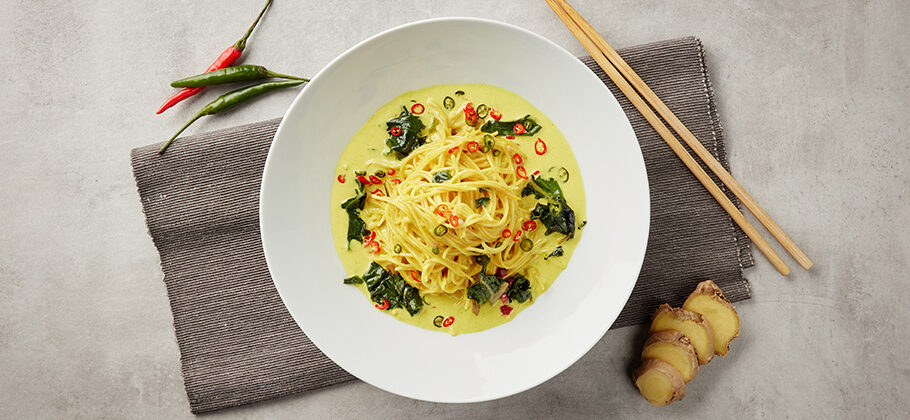 Made with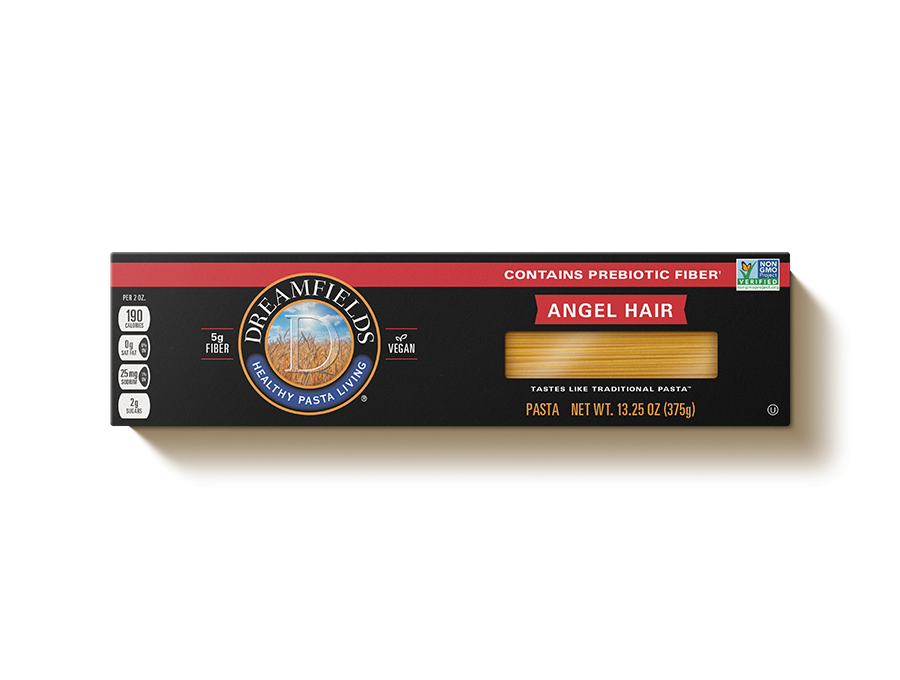 Dreamfields®
Angel Hair
Ingredients
4 medium garlic cloves, roughly chopped, plus 3 cloves sliced
5 medium shallots or one small yellow onion minced
1 (3 inch) piece fresh ginger, roughly sliced (about 1 ¼ ounces)
1 - 2 jalapeños, stems removed, roughly sliced
2 teaspoons fresh lime juice
2 teaspoons ground cumin
2 teaspoons ground turmeric
1 teaspoon ground coriander
½ cup olive oil
4 cups vegetable stock
1 (13.5 ounce) can lite coconut milk
½ box Dreamfields® Angel Hair pasta
1 (5 ounce) bunch Swiss chard, stems removed, roughly chopped
Lime wedges (optional)
Directions
For the curry paste, combine first 8 ingredients in a blender or food processor, and pulse until ingredients are finely chopped. Add half of the olive oil and pulse until ingredients form a smooth paste.
Garlic oil: Heat olive oil in a small saucepan over medium-high heat. Add the garlic slices and cook 30 to 40 seconds. As soon as you see any sign of browning, remove from heat immediately.
Soup: Heat 1 tablespoon olive oil in a deep, high-sided skillet over medium-high heat. Add ½ cup curry paste. Reduce heat to low and cook, stirring constantly 2 to 3 minutes. Stir in vegetable stock and coconut milk. Let simmer 6 to 8 minutes. Season broth with salt. Turn off heat and stir in chard.
To serve: divide cooked pasta among 4 bowls and ladle broth mixture over the noodles. Top with scallions and cilantro; drizzle with garlic oil. Serve with lime wedges.
Nutrition Facts
680 Calories
82g Carbohydrates
9g Saturated Fat
380mg Sodium
36g Fat
15g Protein
0mg Cholesterol
11g Dietary Fiber
Find Dreamfields Pasta near you.

Find Dreamfields at your favorite grocery and retail stores nationwide. Also available online.

Find a store