Linguine Recipes
Garlic Shrimp and Sausage Linguine
Course

Main Dish

Servings

Makes 2 Servings

Prep Time

25 minutes

Cooking Time

1 hour

Total Time

1 hour, 25 minutes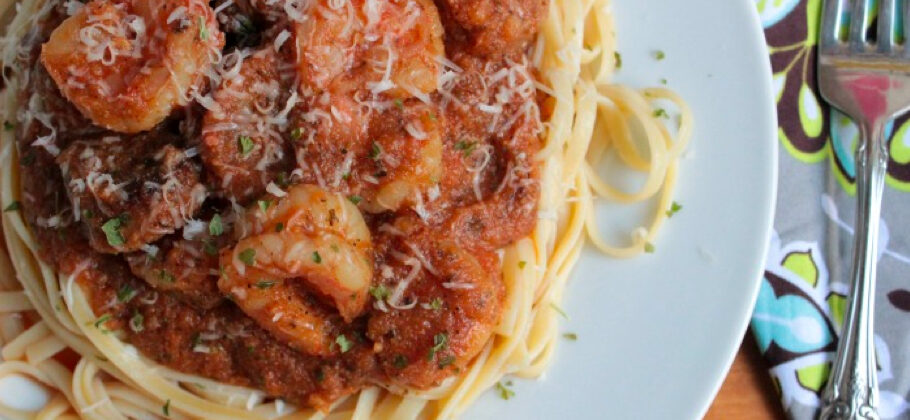 Made with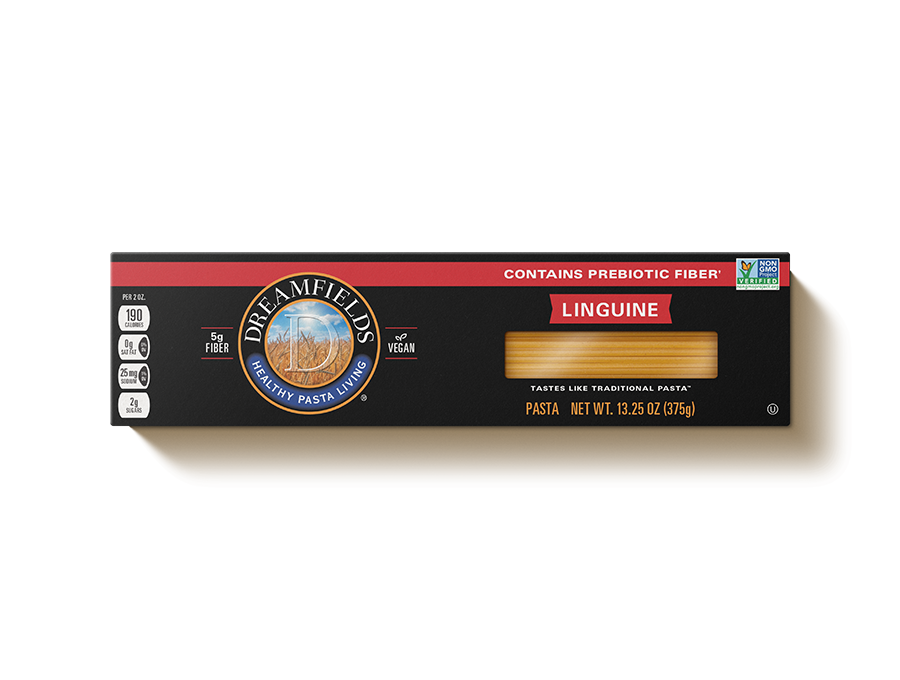 Dreamfields®
Linguine
Ingredients
5 ounces Dreamfields Linguine
4 medium tomatoes chopped
1 teaspoon dried basil
1 teaspoon Italian seasoning +1 additional teaspoon, divided
1 tablespoon garlic powder
1 tablespoon sugar
1/2 teaspoon pepper
8 ounces reduced-fat sausage links
6 jumbo shrimp peeled and deveined
water
Directions
Place tomatoes in large stock pot. Stir in the basil, Italian seasoning, 1 tablespoon garlic powder, sugar and pepper. Cover and simmer over low heat for 45 minutes. Puree tomato sauce until smooth. If sauce is too thick add a small amount of water until thinned to desired consistency. Set aside, keep warm.
Meanwhile, bring a medium pot of water to a boil. Add pasta and cook according to package directions. Drain; keep warm.
Heat a medium skillet and cook sausage links until done, per package directions. Remove cooked sausage from skillet and cut into 1 inch thick coins.
Add peeled shrimp to the skillet. Sprinkle with remaining 1 teaspoon garlic powder. Cook for 3-4 minutes or until shrimp has curled and turned pink.
Add the sausage and shrimp to sauce and stir.
To plate: Swirl drained linguine onto plates. Top with garlic shrimp and sausage tomato sauce.
Nutrition Facts
640 Calories
73g Carbohydrates
5g Saturated Fat
1250mg Sodium
22g Fat
45g Protein
200mg Cholesterol
11g Dietary Fiber
Find Dreamfields Pasta near you.

Find Dreamfields at your favorite grocery and retail stores nationwide. Also available online.

Find a store