Rotini Recipes
Garden Market Pasta Salad with Smoked Trout
Course

Pasta Salad

Servings

Makes 4 Servings

Prep Time

20 minutes

Cooking Time

20 minutes

Total Time

40 minutes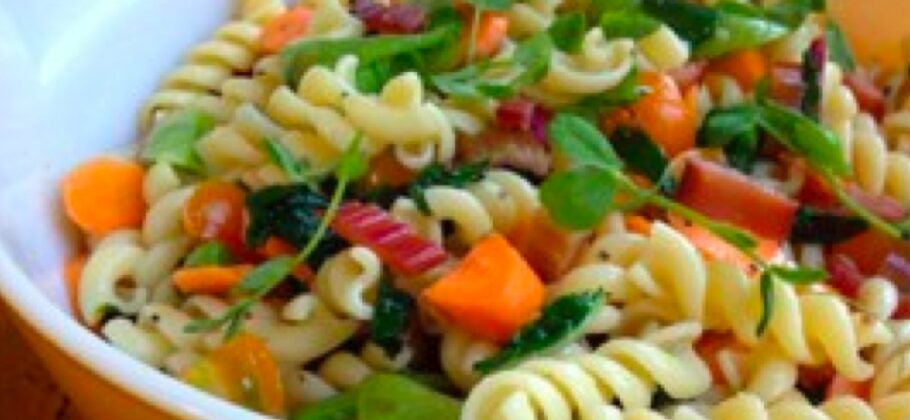 Made with
Dreamfields®
Rotini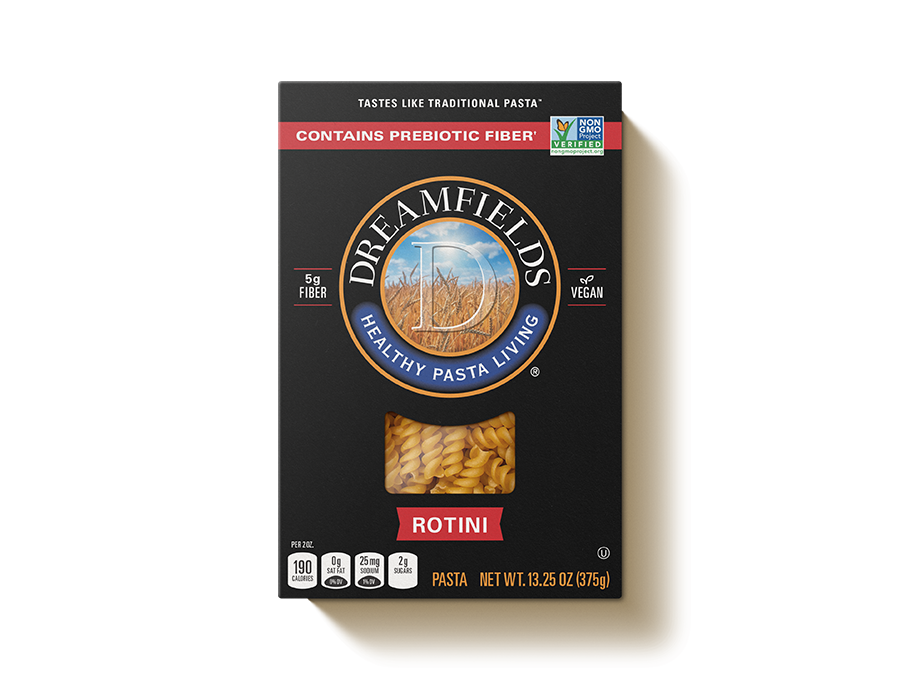 Ingredients
1/2 box Dreamfields Rotini
1 teaspoon salt divided
1-1/2 cups sugar snap peas trimmed, sliced in half diagonally
1 large carrot (or 4 small carrots) peeled, sliced thinly
10 small tomatoes halved (or grape or cherry tomatoes)
4 stalks rainbow chard trimmed, sliced thinly
lemon juice from 1 lemon, freshly squeezed
1 teaspoon citrus seasoning mix like lemon pepper (optional)
1 teaspoon light olive oil
1 teaspoon light water-packed tuna,
3 teaspoons honey lime dressing
2 teaspoons Dijon mustard
1/2 teaspoon freshly ground black pepper (or to taste)
1 fillet cold smoked trout flaked into bite-size pieces
1 handful fresh pea shoots (optional)
Directions
Cook pasta according to package directions; drain, running pasta under cold water to cool. Set aside.
Bring medium sized pot of water to boil with 1/2 teaspoon salt. Prepare large bowl of ice water with a colander in it and set aside.
Prepare sugar snap peas by trimming stem ends, cutting pea pods in half diagonally and then blanching for 30 seconds in boiling salted water. Remove pea pods from water and place in colander/bowl of ice water to shock and stop the cooking. (Don't discard the boiling or ice water yet!)
In a large bowl, gently toss together carrots and tomatoes. Add drained pea pods.
Rinse rainbow chard well to remove any remaining dirt. Slice stalks very thinly. Roll leaves and slice into thin ribbons. Blanch stalks and ribbons in boiling water for 30 seconds. Remove from water and place in colander/bowl of ice water. Remove chard from ice water bath and drain well before adding to vegetables in bowl.
In small bowl, whisk together lemon juice, seasoning, olive oil, water, honey, Dijon, 1/2 teaspoon salt, and freshly ground black pepper.
Toss all vegetables together lightly with lemon juice-Dijon mixture. Add pasta and stir gently to combine and coat. Add smoked trout on top of each serving, or toss lightly into the salad before serving. Serve at room temperature or chilled. Top with torn pea shoots to garnish, if desired.
Nutrition Facts
419 Calories
58g Carbohydrates
1g Saturated Fat
735mg Sodium
9g Fat
30g Protein
58mg Cholesterol
8g Dietary Fiber
Find Dreamfields Pasta near you.

Find Dreamfields at your favorite grocery and retail stores nationwide. Also available online.

Find a store