Elbows Recipes
Fruit & Yogurt Elbow Salad
Course

Pasta Salad

Servings

Makes 8 Servings

Prep Time

20 minutes

Cooking Time

8 minutes

Total Time

28 minutes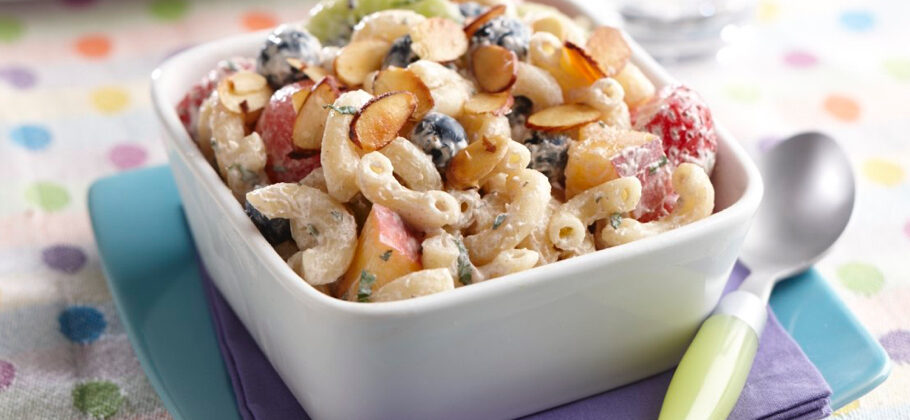 From the kitchen of Dreamfields Pasta

Made with
Dreamfields®
Elbows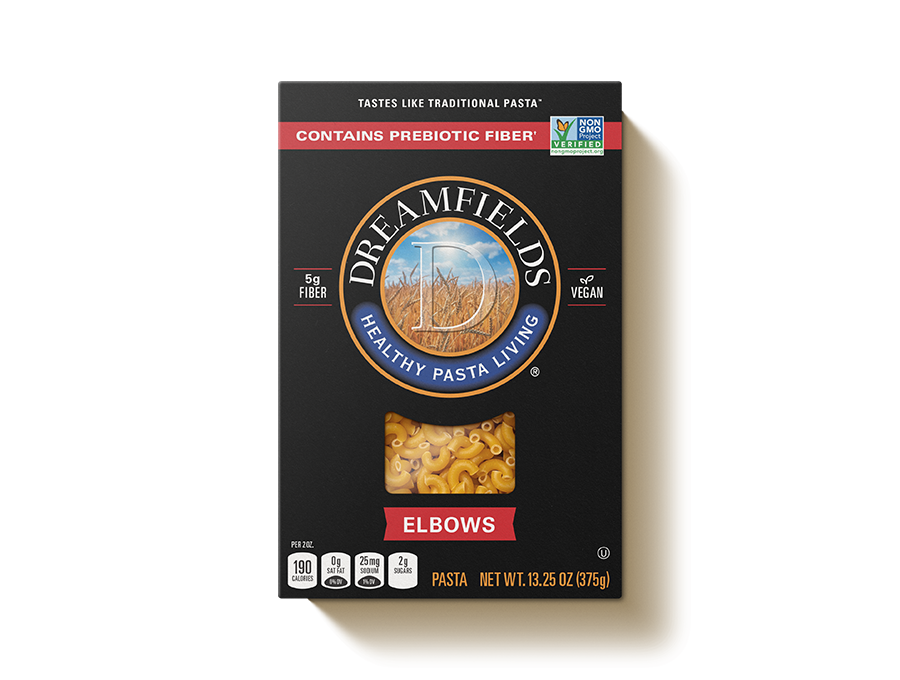 Ingredients
1 box Dreamfields Elbows
1-1/2 cups low-fat vanilla yogurt (see notes below)
1 tablespoon honey (optional)
1 teaspoon cinnamon ground
4 cups fruit (see notes below)
1/4 cup fresh mint chopped (optional)
1/3 cup almonds sliced, toasted
Directions
Cook pasta according to package directions; drain. Rinse pasta in cold water; drain again. Place in large bowl; set aside.
Meanwhile, in medium bowl, stir together yogurt, honey and cinnamon. Toss with elbows.Add fruit and mint, if desired; toss gently to combine.Sprinkle with almonds. Refrigerate leftovers, covered, up to 1 day. (Let stand at room temperature 10 to 15 minutes before serving if refrigerated.
Based on 8 Servings
Based on 12 Servings
170 Calories
3 g Fat
35 g Carbohydrates
7 g Protein
1 g Saturated Fat
1 mg Cholesterol
30 mg Sodium
4 g Dietary Fiber
Notes:
Either Greek or traditional yogurt can be used.
Choose one or more favorite fruits cut into bite-sized pieces. Suggestions: apples, blueberries, cantaloupe, grapes, kiwi, nectarines, peaches, raspberries, strawberries, watermelon.
Nutrition Facts
260 Calories
52g Carbohydrates
1g Saturated Fat
45mg Sodium
4g Fat
10g Protein
2mg Cholesterol
6g Dietary Fiber
Find Dreamfields Pasta near you.

Find Dreamfields at your favorite grocery and retail stores nationwide. Also available online.

Find a store