Rotini Recipes
Fire Roasted Poblano Rotini With Sweet Sausage
Course

Main Dish

Servings

Makes 6 Servings

Prep Time

20 minutes

Cooking Time

25 minutes

Total Time

45 minutes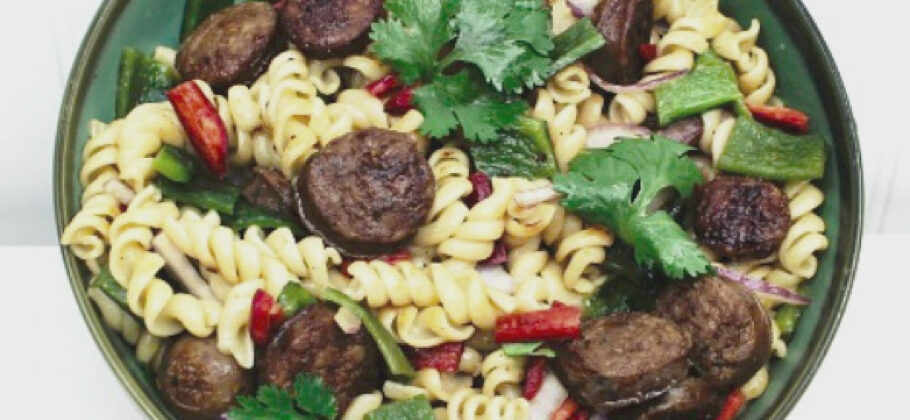 Made with
Dreamfields®
Rotini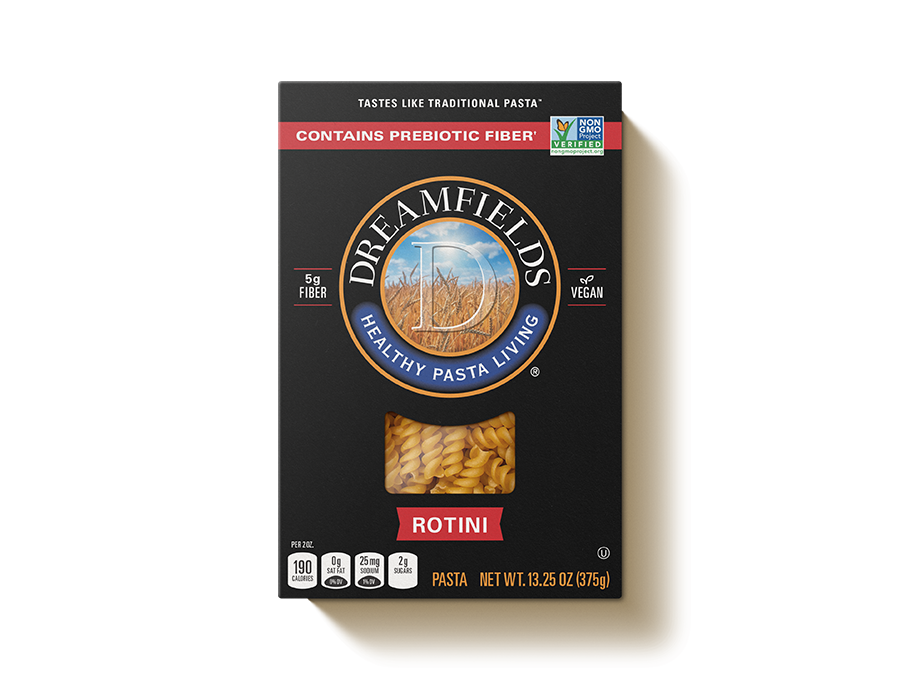 Ingredients
1 box Dreamfields Rotini
1 bottle beer use your favorite beer (12 ounces)
1 package sweet Italian sausage
3 cloves garlic chopped
3 chili peppers (medium heat) seeded
2 poblano peppers fire-roasted and seeded
1 medium red onion chopped
1/4-1/2 cup fresh cilantro leaves
fresh lemon juice
fresh cilantro leaves
DRESSING:
1/4 cup extra virgin olive oil
1/8 cup fresh lemon juice
1 teaspoon salt
1/2 teaspoon pepper
Directions
Cook pasta according to package directions. Place pasta in large bowl; set aside.
Meanwhile, pour beer into large skillet. Pierce sausages with fork. Add sausages and garlic to skillet with beer. Cook over medium-high heat 15 minutes, turning sausages occasionally. Remove sausages from skillet; cut into 1/4-inch thick slices.
Pour beer and garlic mixture from skillet into a blender or food processor container; set aside. Return sausage slices to skillet and continue cooking 10 minutes, or until sausage is fully cooked, stirring occasionally.
While sausage cooks, cut chili peppers, roasted poblanos and onion into 1/4-inch thick slices; set aside.
For dressing, add olive oil, lemon juice, salt and pepper to beer and garlic mixture in blender or food processor. Blend on high or process until combined.
Add dressing to pasta; toss to mix well. Add sausage slices, peppers, onion and fresh cilantro; toss to combine. Squeeze fresh lemon juice over pasta and garnish with cilantro, as desired.
Nutrition Facts
470 Calories
55g Carbohydrates
3g Saturated Fat
920mg Sodium
27g Fat
24g Protein
27mg Cholesterol
7g Dietary Fiber
Find Dreamfields Pasta near you.

Find Dreamfields at your favorite grocery and retail stores nationwide. Also available online.

Find a store