Lasagna Recipes
Easy Weeknight Lasagna
Course

Main Dish

Servings

Makes 8 Servings

Prep Time

20 minutes

Cooking Time

20 minutes

Total Time

40 minutes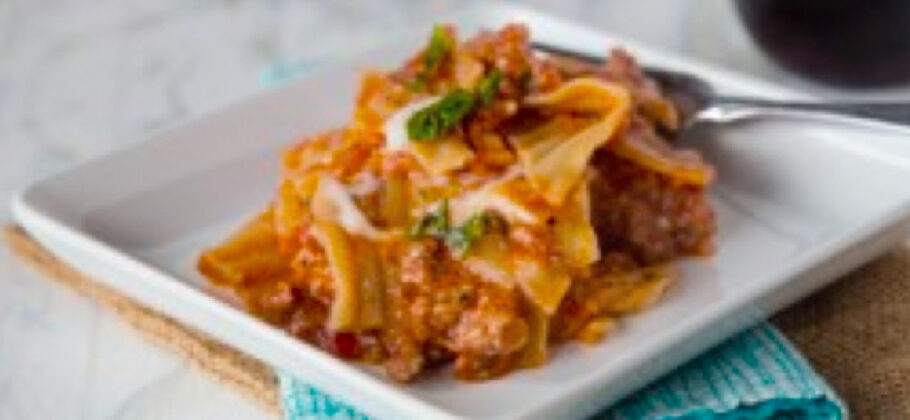 Made with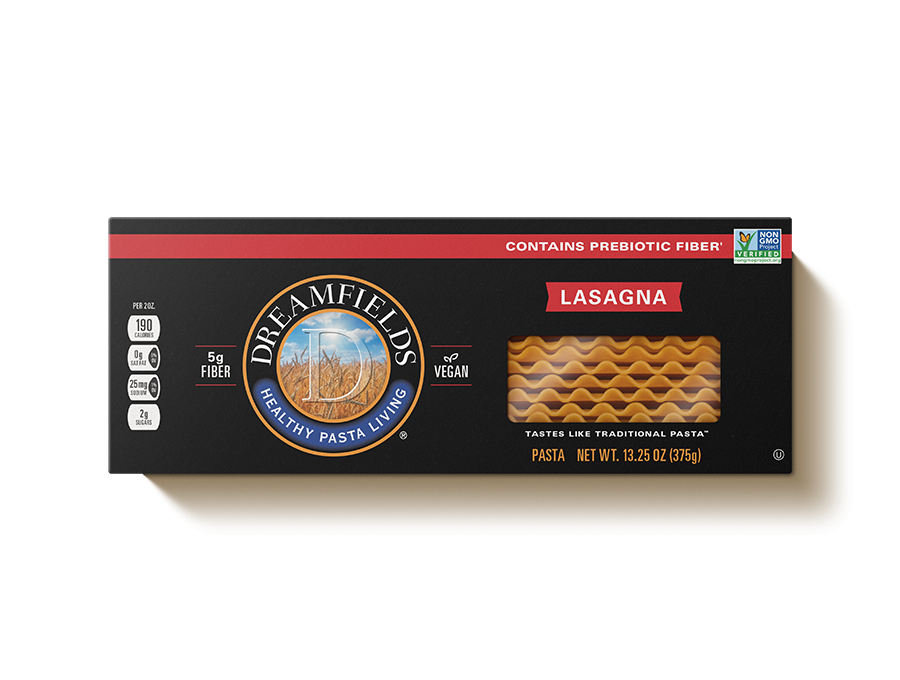 Dreamfields®
Lasagna
Ingredients
1 box Dreamfields Lasagna Noodles broken into 2- or 3-inch pieces
1 tablespoon olive oil
1 pound ground turkey breast
1 cup onion finely chopped
3 cloves garlic minced
2 teaspoons Italian seasoning
1 teaspoon dried oregano
1 14 oz can Italian-style diced tomatoes
2 14 oz cans no salt added tomato sauce
salt and pepper
1 cup part-skim mozzarella cheese divided
1/2 cup part-skim ricotta cheese
Parmesan cheese shredded (optional)
fresh basil chopped (optional)
Directions
Cook pasta according to package directions.
Meanwhile, heat oil in large skillet over medium-high heat. Add ground turkey and onion. Cook 5 to 7 minutes or until turkey is browned and cooked through and onion is translucent, stirring occasionally and breaking turkey into crumbles. Add garlic; cook 1 minute, or until garlic is fragrant, stirring frequently. Add Italian seasoning and oregano to skillet. Add tomatoes and tomato sauce to skillet. Reduce heat; simmer 10 minutes, stirring occasionally. Season with salt and pepper, as desired. Remove from heat.
Add pasta to turkey-tomato sauce. Add 1/2 cup of the mozzarella and the ricotta cheese; stir until melted and combined. Sprinkle with remaining mozzarella. Serve topped with Parmesan cheese and fresh basil, if desired.
Nutrition Facts
380 Calories
48g Carbohydrates
0g Saturated Fat
270mg Sodium
12g Fat
25g Protein
50mg Cholesterol
7g Dietary Fiber
Find Dreamfields Pasta near you.

Find Dreamfields at your favorite grocery and retail stores nationwide. Also available online.

Find a store