Linguine Recipes
Easy Spicy Shrimp Marinara Linguine
Course

Main Dish

Servings

Makes 6 Servings

Prep Time

20 minutes

Cooking Time

20 minutes

Total Time

40 minutes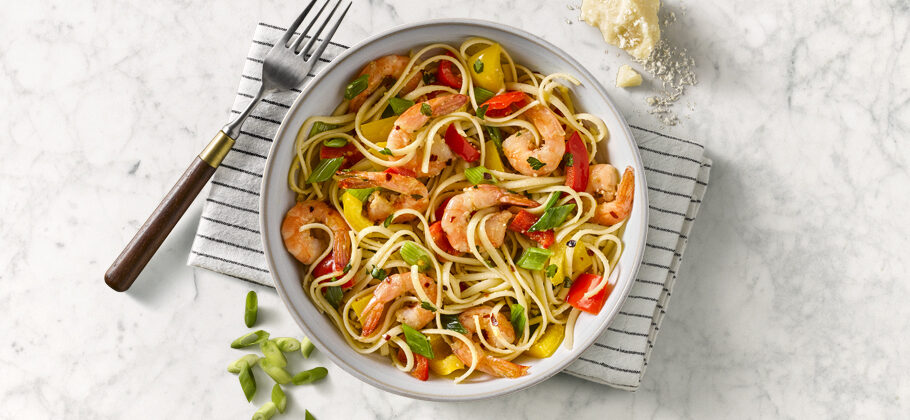 Made with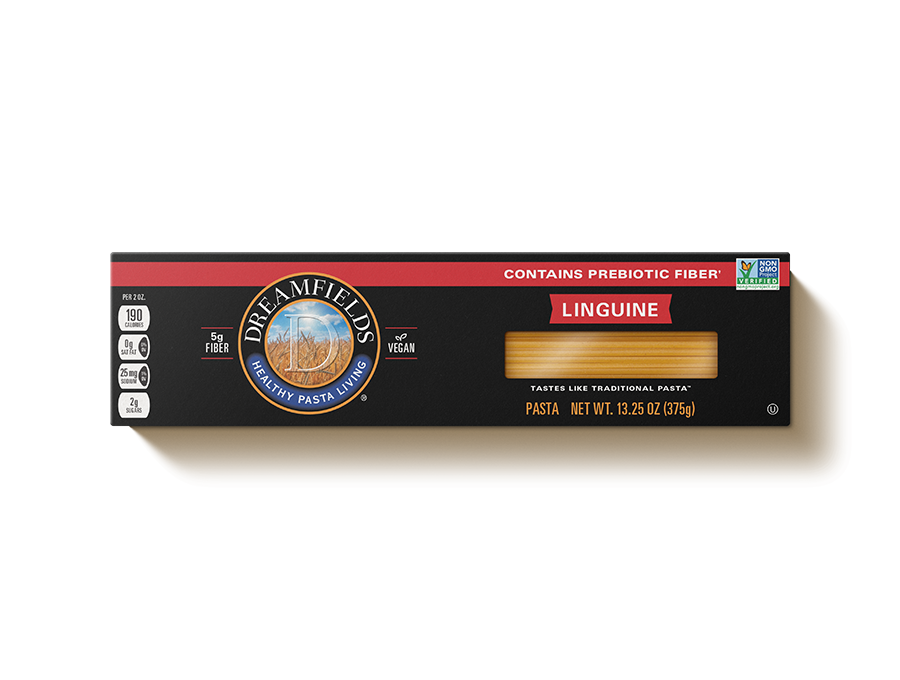 Dreamfields®
Linguine
Ingredients
1 box Dreamfields Linguine
16 to 20 frozen cooked shrimp thawed
1/3 cup fresh parsley chopped
1/4 cup fresh thyme chopped
2 cloves garlic minced
1/2 to 1 teaspoon crushed red pepper flakes fat free if desired
fresh basil chopped
Marinara Sauce
1 tablespoon extra virgin olive oil
2 cloves garlic minced
1 large tomato chopped
1 can diced tomatoes (14.5 onces)
1/2 teaspoon salt (optional)
1 teaspoon dried thyme
1 teaspoon dried basil leaves
1/2 teaspoon crushed red pepper flakes
1/2 teaspoon brown sugar
2 tablespoons Parmesan cheese grated
Directions
Prepare pasta according to package directions. Return to pan.
Meanwhile, for marinara sauce, in large saucepan, heat olive oil over medium heat. Add garlic; cook and stir 30 seconds. Add chopped tomato, diced tomatoes, salt, if desired, thyme, basil, 1/2 teaspoon red pepper flakes and brown sugar. Stir to combine. Increase heat; bring to boil. Reduce heat and simmer 5 minutes. Remove from heat. Blend sauce with immersion blender (or regular blender). Return sauce to saucepan; bring to simmer. Add Parmesan cheese; simmer 5 minutes.
Add thawed shrimp to sauce; heat through, about 2 minutes (do not overcook). Stir in parsley, thyme, garlic and red pepper flakes. Remove from heat. Toss with pasta. Serve immediately, sprinkled with chopped basil, as desired.
Notes: For spicier sauce, add additional crushed red pepper flakes, as desired. If desired, two cups prepared marinara sauce can be substituted for the homemade sauce. Recipe is prepared with shrimp that have not been treated or frozen with seawater or brine solutions which increases the sodium level.
Nutrition Facts
330 Calories
53g Carbohydrates
1g Saturated Fat
680mg Sodium
5g Fat
24g Protein
121mg Cholesterol
8g Dietary Fiber
Find Dreamfields Pasta near you.

Find Dreamfields at your favorite grocery and retail stores nationwide. Also available online.

Find a store