Angel Hair Recipes
Creamy Pumpkin Pasta with Scallops
Course

Main Dish

Servings

Makes 2 Servings

Prep Time

15 minutes

Cooking Time

25 minutes

Total Time

40 minutes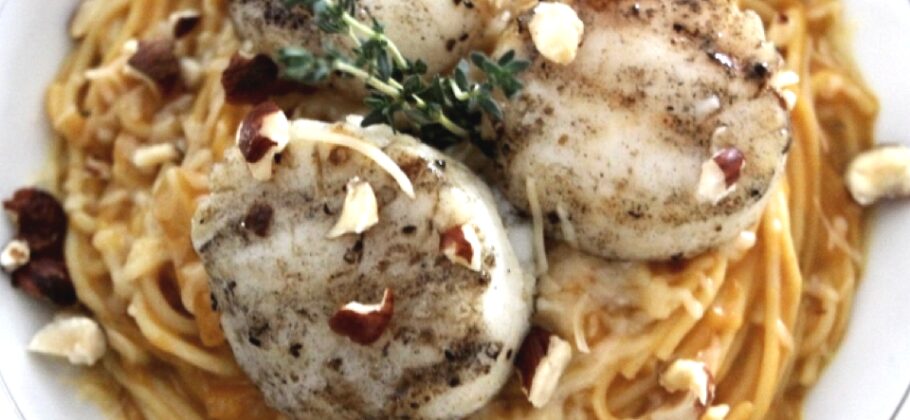 Made with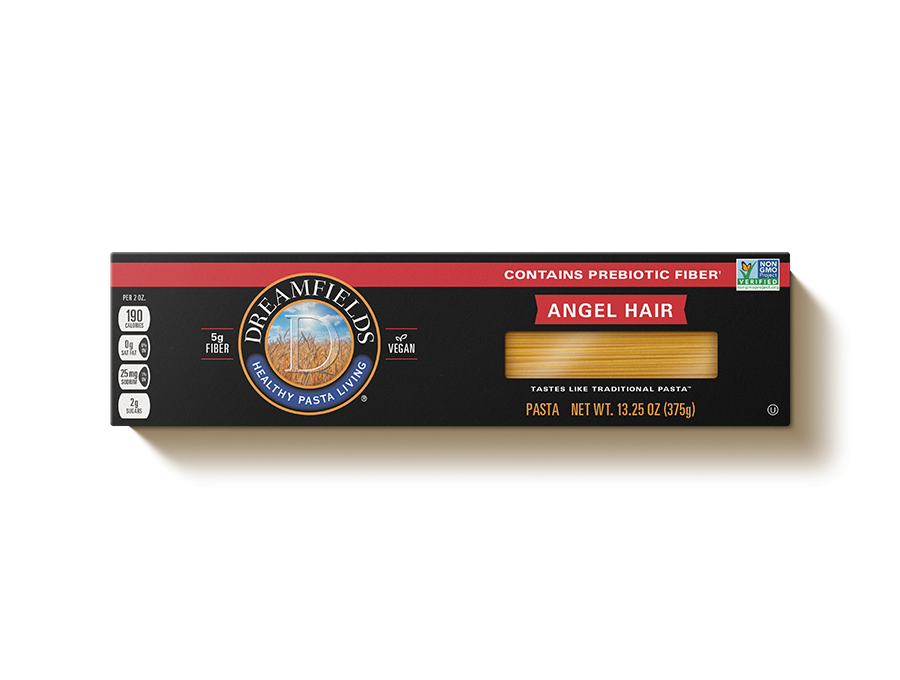 Dreamfields®
Angel Hair
Ingredients
4 ounces Dreamfields Angel Hair Pasta uncooked
1/2 teaspoon salt
2 tablespoons olive oil
1 small onion diced
2 cloves garlic minced
2 cups pumpkin purée
2 cups light chicken broth (preferably homemade)
1/2 cup lite coconut milk
1 teaspoon kosher or sea salt
1/2 teaspoon freshly ground black pepper
2 tablespoons fresh thyme divided
6 large scallops
2 tablespoons hazelnuts chopped
Cajun seasoning
Gouda cheese shredded (optional)
Directions
Bring a medium size pot of water to a boil. Add the pasta to the pot and cook until al dente, or according to the package instructions. Drain and set aside.
While the pasta is cooking, in a large skillet over medium-high heat, add the olive oil; reduce the heat to medium low and add the onion and garlic to the pan.
Cook, stirring frequently, until the onion is soft and translucent, about 5 minutes. Increase the heat to medium and add the pumpkin, chicken stock, coconut milk, salt, pepper and 1 tablespoon of the thyme to the skillet. Whisk until well-combined and simmer, stirring occasionally, for 10 minutes. Remove from heat. Toss with cooked pasta.
Meanwhile, sprinkle scallops on both sides with desired amount of Cajun seasoning. Grill the scallops about 1 minute or heat 1 tablespoon of oil in a skillet and cook about 1 minute on each side or until scallops are opaque. (Alternatively, scallops can be sautéed. Heat 1 tablespoon olive oil about 1 minute on each side until opaque.)
Divide pasta between 2 bowls and garnish with the remaining thyme and Gouda cheese, if using. Top with scallops and hazelnuts; serve immediately.
Nutrition Facts
470 Calories
67g Carbohydrates
3g Saturated Fat
1710mg Sodium
16g Fat
20g Protein
10mg Cholesterol
0g Dietary Fiber
Find Dreamfields Pasta near you.

Find Dreamfields at your favorite grocery and retail stores nationwide. Also available online.

Find a store