Lasagna Recipes
Chipotle Pumpkin & Chicken Lasagna
Course

Main Dish

Servings

Makes 2 Servings

Prep Time

25 minutes

Cooking Time

35 minutes

Total Time

1 hour, 10 minutes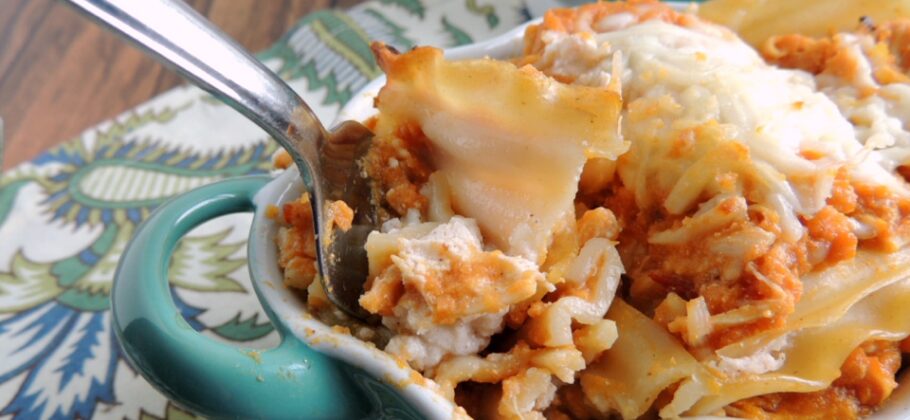 Made with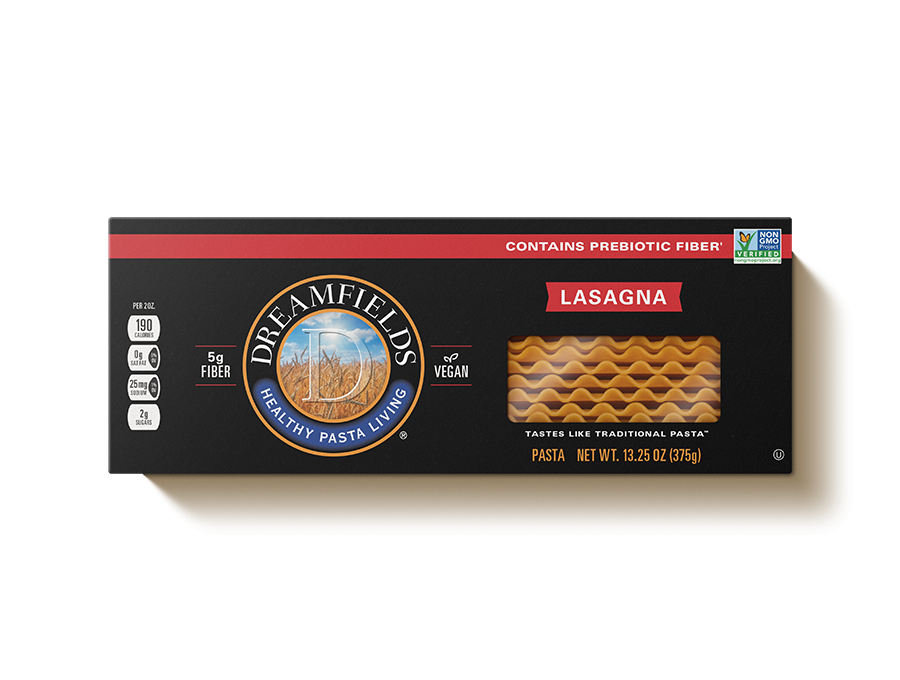 Dreamfields®
Lasagna
Ingredients
15 Dreamfields Lasagna Noodles broken in half
1/2 cup pumpkin purée
1 chipotle pepper in adobo from a can, seeded, chopped
1 tablespoon adobo sauce (from the can of chipotles)
1/2 cup fat-free half & half
1/2 teaspoon kosher salt (plus 1/8 teaspoon, divided)
1-1/2 cups chicken cooked, chopped
1/2 cup part-skim ricotta cheese
1/3 cup nonfat plain Greek yogurt
1/3 cup part-skim mozzarella cheese shredded (+2 tbsps divided)
1/4 teaspoon cinnamon ground
Directions
Cook the lasagna noodles according to the package directions. Drain and reserve.
While the noodles are cooking, prepare the chipotle pumpkin sauce for the lasagna. In a small saucepan, whisk together the pumpkin puree, chipotle pepper, adobo sauce, half & half, and 1/2 teaspoon kosher salt over medium heat. Stir in the chopped chicken. Heat for 3-5 minutes until heated through. Set aside.
Preheat oven to 400°F.
Spray two small baking dishes (about 7 x 3 inches) with cooking spray, and then place on a baking sheet.
In a small bowl, mix together the ricotta cheese, Greek yogurt, 1/3 cup mozzarella, cinnamon, and 1/8 teaspoon salt. Set aside.
Layering the individual lasagnas
Place one cooked half lasagna noodle in each dish. Spread about 1/3 cup of the pumpkin-chicken mixture over each of the noodles. Lay another half noodle on top. Spread a 1/3 cup of the ricotta-yogurt mixture over the second noodle. Repeat until no noodles remain (you should have 5 half noodles per individual crock.) Top the last noodles in each crock with the remaining pumpkin-chicken mixture. Sprinkle one tablespoon mozzarella cheese on top of each finished lasagna.
Tent a piece of aluminum foil over the dishes on the baking sheet. Bake for 30 minutes. Remove the foil tent during the last 10 minutes of baking.
Allow the lasagnas to rest for at least 10 minutes before serving.
Nutrition Facts
680 Calories
67g Carbohydrates
9g Saturated Fat
1100mg Sodium
20g Fat
59g Protein
130mg Cholesterol
7g Dietary Fiber
Find Dreamfields Pasta near you.

Find Dreamfields at your favorite grocery and retail stores nationwide. Also available online.

Find a store