Penne Rigate Recipes
Chicken Taco Pasta
Course

Main Dish

Servings

Makes 8 Servings

Prep Time

10 minutes

Cooking Time

15 minutes

Total Time

25 minutes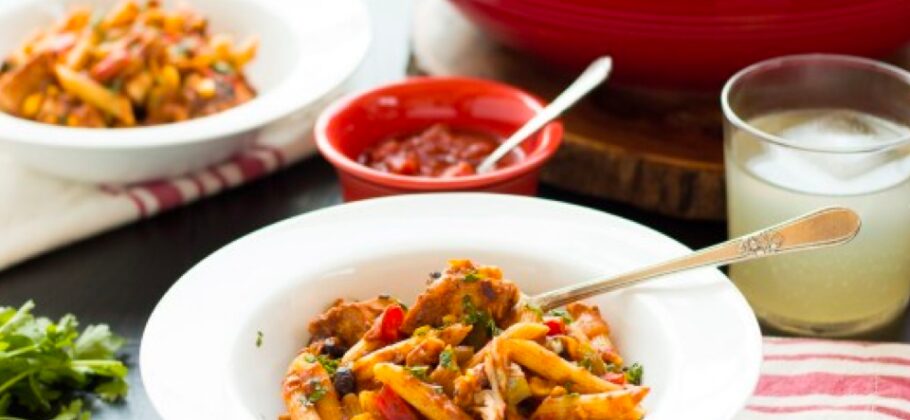 Made with
Dreamfields®
Penne Rigate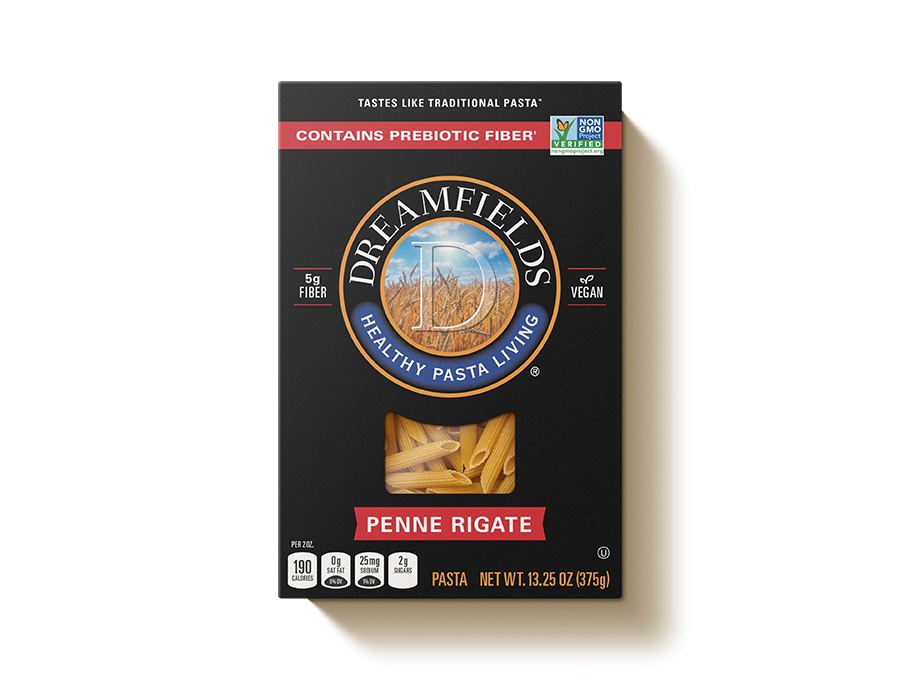 Ingredients
1 box Dreamfields Penne Rigate
1 tablespoon olive oil
1 medium onion diced (about 2 cups)
1 red bell pepper diced (1 cup)
1 green bell pepper diced (1 cup)
salt & pepper
4 garlic cloves pressed or finely minced
1 cup corn (fresh, frozen or canned)
1 cup black beans rinsed and drained (if canned)
2 cups diced cooked chicken breast (see notes)
3 tablespoons taco seasoning prepared or homemade (see notes)
1 cup restaurant-style salsa
1 1/2 cups shredded reduced-fat or regular pepper-jack cheese (see notes)
Chopped fresh cilantro (optional)
Directions
Prepare pasta according to package directions. Reserve 1/4 cup cooking liquid before draining. Return pasta to pan; set aside.
Meanwhile, heat olive oil in large skillet over medium-high heat. Add onion and bell peppers. Season with salt and pepper, as desired. Cook about 8 minutes, stirring frequently, or until onion is soft and golden. Add garlic; cook and stir until fragrant, about 30 seconds. Add corn and beans; cook about 1 minute or until heated through. Add cooked chicken and the taco seasoning; stir until well combined. Add salsa; stir to combine. If mixture is too dry, add reserved cooking liquid, a tablespoon at a time.
Add chicken mixture to pan with pasta. Add cheese; toss until cheese is melted and completely mixed in. Season with salt and pepper, as desired. Garnish with chopped cilantro, if desired.
Note: If using store-bought taco seasoning, be aware that it might be higher in sodium; adjust salt accordingly. For a less spicy version, substitute Monterey Jack cheese for the Pepper-Jack. To save time, rotisserie chicken can be used.
Nutrition Facts
375 Calories
50g Carbohydrates
4g Saturated Fat
600mg Sodium
9g Fat
25g Protein
44mg Cholesterol
8g Dietary Fiber
Find Dreamfields Pasta near you.

Find Dreamfields at your favorite grocery and retail stores nationwide. Also available online.

Find a store