Angel Hair Recipes
Chicken Piccata with Angel Hair
Course

Main Dish

Servings

Makes 4 Servings

Prep Time

20 minutes

Cooking Time

10 minutes

Total Time

30 minutes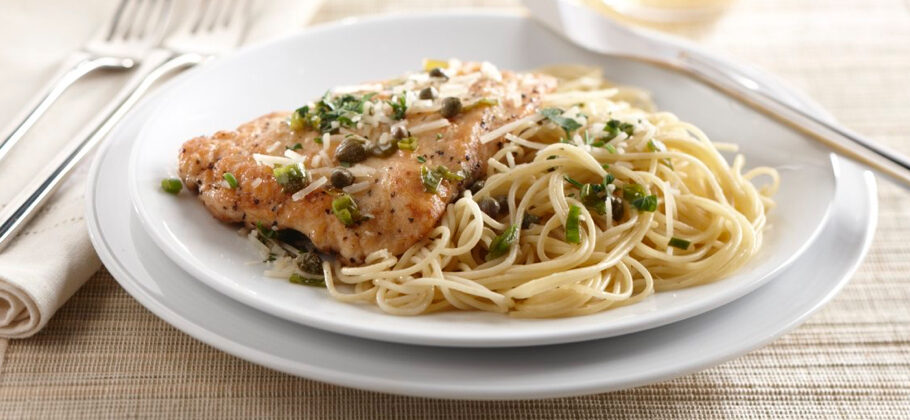 From the kitchen of Dreamfields Pasta

Made with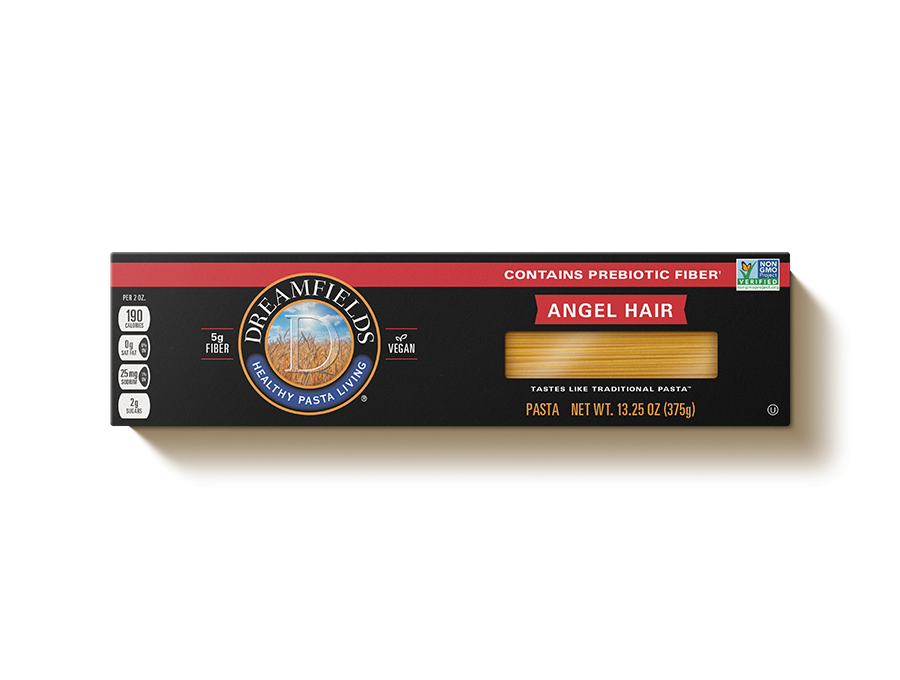 Dreamfields®
Angel Hair
Ingredients
1/2 box Dreamfields Angel Hair Pasta
4 boneless, skiness chicken breast halves (about 1 pound)
1/3 cup all-purpose flour
1/2 teaspoon salt
1 teaspoon black pepper
2 tablespoons olive oil
1 tablespoon butter
1/3 cup green onions chopped
2 cloves garlic minced
1/2 cup dry white wine (or chicken broth)
1/4 cup fresh lemon juice
1 tablespoon capers
2 tablespoons fresh parsley chopped
Parmesan cheese shredded
Directions
Place chicken pieces between two pieces of plastic wrap. Using meat mallet, pound chicken to even thickness (about 1/2 inch thick).
Combine flour, salt and pepper. Lightly coat chicken pieces with flour mixture; shake off excess.
In large skillet, heat olive oil and butter over medium-high heat. Cook chicken about 5 to 6 minutes, turning once, until chicken is golden brown and cooked through. Remove from skillet; set aside.
Add green onions and garlic to skillet; cook and stir 1 minute. Stir in wine, lemon juice, capers and any pan juices from the chicken. Bring to boil. Reduce heat; simmer 1 to 2 minutes.
Meanwhile, prepare pasta according to package directions. Set aside.
Serve chicken with pasta; pour sauce over top. Sprinkle with parsley and Parmesan cheese.
Nutrition Facts
445 Calories
46g Carbohydrates
4g Saturated Fat
450mg Sodium
13g Fat
32g Protein
74mg Cholesterol
0g Dietary Fiber
Find Dreamfields Pasta near you.

Find Dreamfields at your favorite grocery and retail stores nationwide. Also available online.

Find a store