Linguine Recipes
Cajun Jambalaya Pasta
Course

Main Dish

Servings

Makes 4 Servings

Prep Time

20 minutes

Cooking Time

15 minutes

Total Time

35 minutes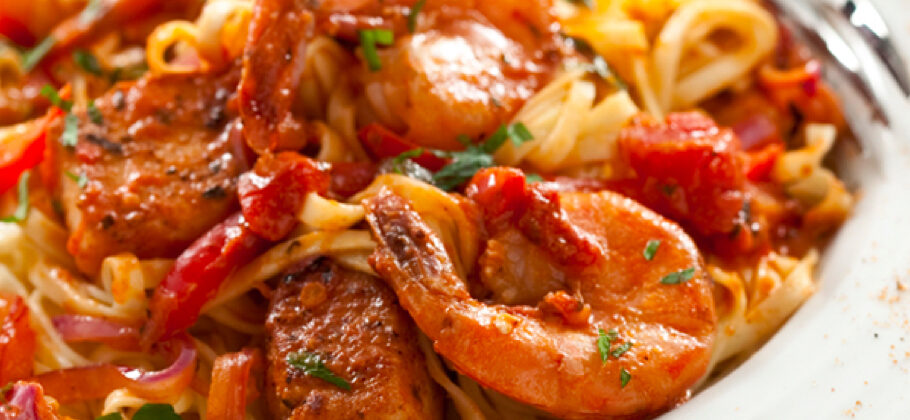 Made with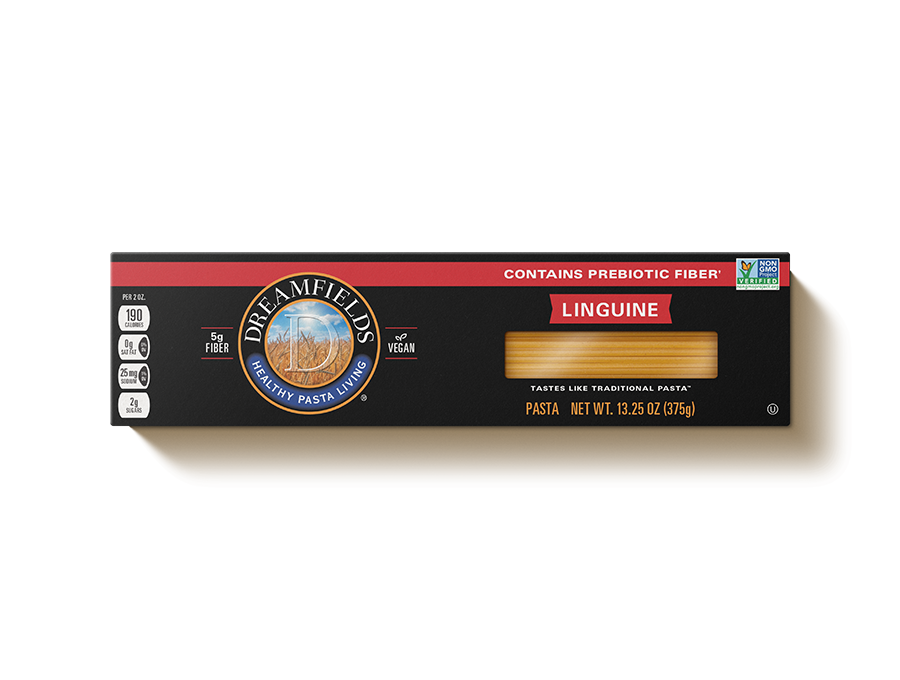 Dreamfields®
Linguine
Ingredients
6 ounces Dreamfields Linguine
8 ounces boneless, skinless chicken breasts cut into 1-inch pieces
5 teaspoons Cajun spice blend divided
2 teaspoons olive oil
2 medium red or yellow bell peppers sliced into strips
8 ounces large raw shrimp peeled and deveined
1 clove garlic minced
1/4 teaspoon ground black pepper
1 cup canned tomatoes diced
1/4 cup reduced-sodium chicken broth
2 teaspoons butter
2 tablespoons fresh parsley chopped
Directions
Cook pasta according to package directions; set aside.
Place chicken pieces into medium bowl; toss with 3 teaspoons (or 1 tablespoon) Cajun spice.
Heat oil in a large nonstick skillet over medium-high heat. Add chicken; sauté 3 to 4 minutes or until cooked about halfway through. Add bell peppers, onion and shrimp; sauté 1 to 2 minutes or until shrimp are pink.
Reduce heat to medium. Add garlic, black pepper, remaining 2 teaspoons Cajun spice, tomatoes and chicken broth to skillet, stirring gently. Cook 5 minutes or until chicken is thoroughly cooked and vegetables tender. Swirl butter into sauce.
Place pasta in large bowl; toss with sauce. Garnish with chopped parsley.
Nutrition Facts
325 Calories
36g Carbohydrates
0g Saturated Fat
810mg Sodium
6g Fat
30g Protein
115mg Cholesterol
6g Dietary Fiber
Find Dreamfields Pasta near you.

Find Dreamfields at your favorite grocery and retail stores nationwide. Also available online.

Find a store