Penne Rigate Recipes
Butternut Squash Bolognese
Course

Main Dish

Servings

Makes 8 Servings

Prep Time

15 minutes

Cooking Time

35 Minutes

Total Time

50 Minutes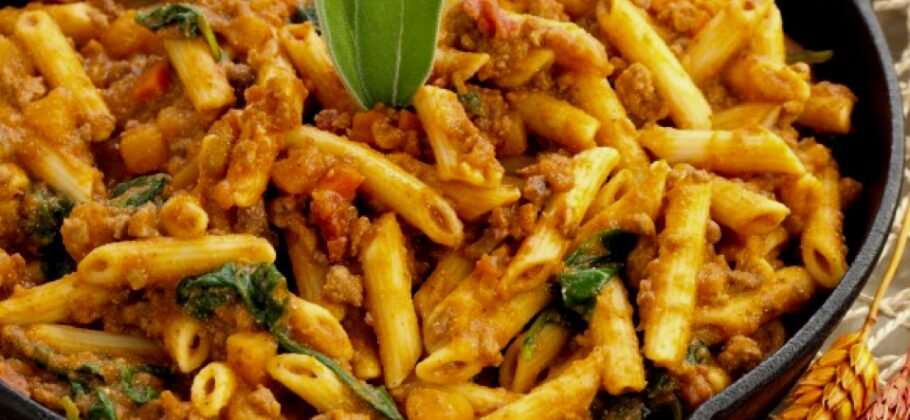 Made with
Dreamfields®
Penne Rigate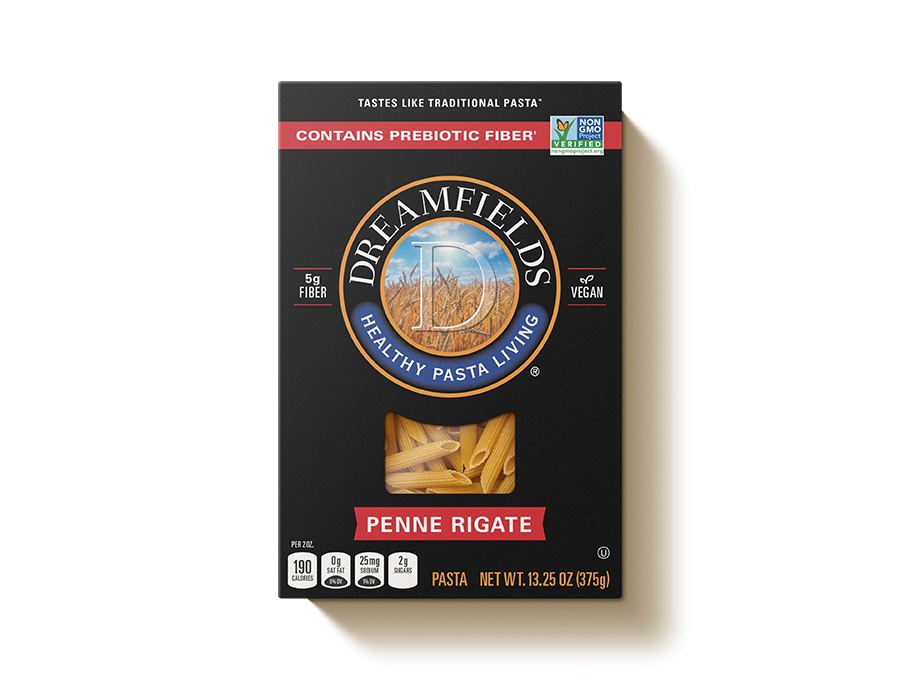 Ingredients
1 box Dreamfields Penne Rigate
1 1/2 tablespoons olive oil
3 cups fresh butternut squash chopped (about 1 1/2 pound squash)
1 1/2 cups diced carrots (2 medium carrots)
1 cup diced onion (1 medium onion)
1 cup diced celery (3 stalks)
1 1/2 teaspoons Chinese five space powder *see note
1/2 teaspoon sea salt (optional)
2 cups low-sodium vegetable stock
1 cup dry white wine
1 cup water
2 tablespoons Thai sweet chili sauce
2 strips thick-cut bacon diced
3/4 pound 90% lean ground beef
3/4 pound 80% lean ground pork
4 cups packed fresh baby kale or spinach (optional)
2 tablespoons chopped fresh sage (optional)
freshly ground black pepper
1 cup part-skim ricotta cheese divided
fresh basil (optional)
Directions
In 6 to 8-quart, heavy-bottomed saucepan, heat olive oil over medium heat. Add butternut squash, carrots, onion, celery, Chinese 5 spice and salt, if desired. Cook about 10 minutes until vegetables are translucent and soft but not browned, stirring occasionally.
Place cooked vegetables in blender container. Add vegetable stock, white wine, water and Thai sweet chili sauce. Carefully blend the hot mixture, pulsing a few times, then blending on low speed until smooth or to desired consistency.
In saucepan cook bacon 2 to 3 minutes over medium heat, stirring frequently. Add ground beef and pork. Cook over medium-high heat 10 minutes or until browned, stirring frequently to keep meats from sticking together. Drain off excess fat. Add pureed vegetable mixture; simmer over medium heat 30 minutes. Remove from heat.
Meanwhile, cook pasta according to package directions. Reserve 1 cup of pasta cooking liquid before draining.
Add pasta to pan with Bolognese sauce. Stir until evenly coated, adding some of reserved cooking liquid, if needed, to thin out sauce. Fold in baby kale or spinach and fresh sage, if desired. Season with salt and pepper, as desired. Divide pasta among bowls. Top with dollop of part-skim ricotta cheese and garnish with fresh basil, if desired.
Note: Substitute Chinese five space powder for 1 teaspoon pumpkin pie spice + 1/2 teaspoon ground anise.
Nutrition Facts
500 Calories
51g Carbohydrates
6g Saturated Fat
230mg Sodium
19g Fat
29g Protein
70mg Cholesterol
8g Dietary Fiber
Find Dreamfields Pasta near you.

Find Dreamfields at your favorite grocery and retail stores nationwide. Also available online.

Find a store