Spaghetti Recipes
Butternut Squash and Kale Autumn Lo Mein
Course

Main Dish

Servings

Makes 4 Servings

Prep Time

15 minutes

Cooking Time

20 minutes

Total Time

35 minutes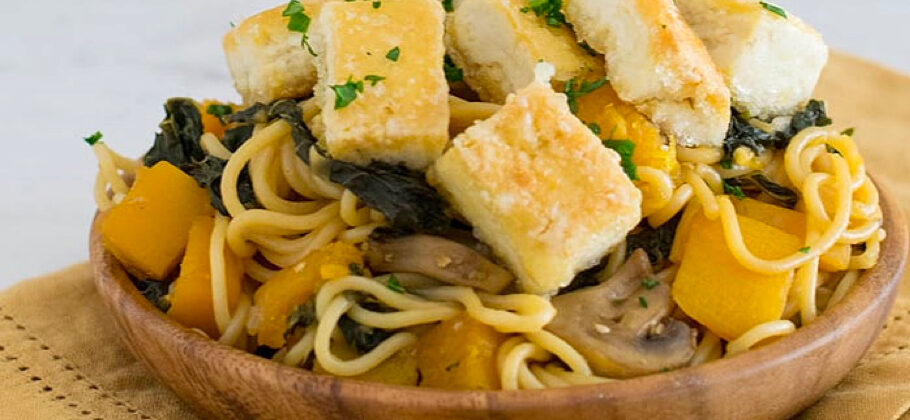 Made with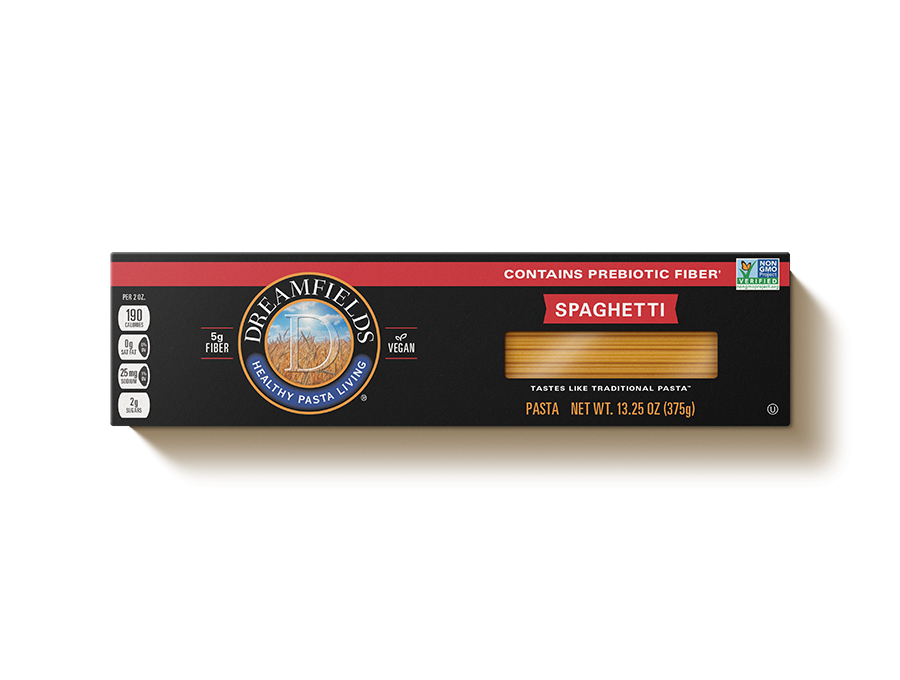 Dreamfields®
Spaghetti
Ingredients
1/2 box Dreamfields Spaghetti
16 ounces organic extra-firm tofu cut into small rectangles
2 tablespoons plus 2 teaspoons organic cornstarch or all-purpose flour divided
2 tablespoons avocado oil or other vegetable oil
1 cup vegetable broth (or water plus 1 vegetable bouillon cube)
1/2 cup orange juice
1/4 cup low-sodium soy sauce
2 tablespoons rice wine vinegar
2 tablespoons fresh ginger root grated
2 teaspoons garlic minced
1/4 cup onion minced
8 ounces mushrooms sliced (about 2 1/2 cups
10 ounces butternut squash fresh or frozen cut into cubes (2 cups)
2 cups packed chopped kale fresh or frozen (see note)
Directions
Preheat oven 250°F.
Cook pasta according to package directions.
Place tofu and 2 tablespoons of the cornstarch in large bowl; toss to coat well. Set aside.
Heat oil in medium skillet over medium-high heat until hot. Add tofu in single layer. Cook 5 to 8 minutes or until one side is golden brown; turn tofu. Reduce heat to medium; cook 5 minutes or until other side is golden brown. Drain tofu on paper towel-lined plate. Transfer to baking sheet; place in oven to keep warm.
Meanwhile in large bowl or large measuring cup, whisk together broth, bouillon cube, orange juice, soy sauce, ginger and garlic; set aside.
Add onion to skillet that was used for tofu. Cook 3 to 4 minutes or until golden brown, stirring occasionally. Add mushrooms; cook 5 to 7 minutes more, or until they cook down and release their juices, stirring occasionally. Reserve 1/4 cup sauce mixture. Add remaining sauce mixture to skillet, then stir in squash. Cook 10 minutes, stirring occasionally.
Whisk remaining 2 teaspoons cornstarch into remaining 1/4 cup sauce. Add to skillet along with kale; stir thoroughly to mix in cornstarch. Increase heat to medium-high; cook 3 to 5 minutes or until sauce thickens. Remove from heat.
Add pasta; toss to coat. Divide pasta-vegetable mixture among 4 bowls. Top with crispy tofu.
Notes:
If extra-firm tofu is not available you can use regular or firm tofu. First, press the water out of it to make it the same texture as extra-firm. Then wrap the tofu with a clean dish towel or paper towels and place on a cutting board. Place a cast-iron pan or other stable heavy pan or dish on top of the tofu. This will flatten it and press the water out of it. Other greens such as collards or spinach can be substituted for the kale.
Nutrition Facts
400 Calories
61g Carbohydrates
0g Saturated Fat
790mg Sodium
10g Fat
20g Protein
0mg Cholesterol
8g Dietary Fiber
Find Dreamfields Pasta near you.

Find Dreamfields at your favorite grocery and retail stores nationwide. Also available online.

Find a store