Penne Rigate Recipes
Bahama Penne & Seared Mahi-Mahi
Course

Main Dish

Servings

Makes 6 Servings

Prep Time

20 minutes

Cooking Time

15 minutes

Total Time

35 minutes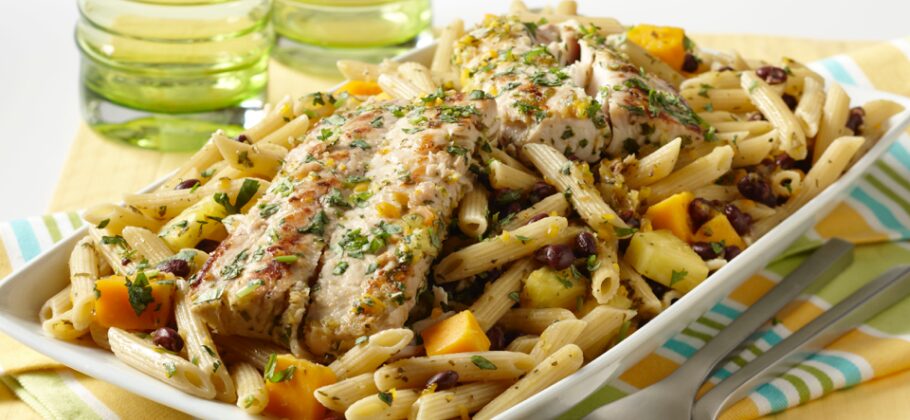 From the kitchen of Dreamfields Pasta

Made with
Dreamfields®
Penne Rigate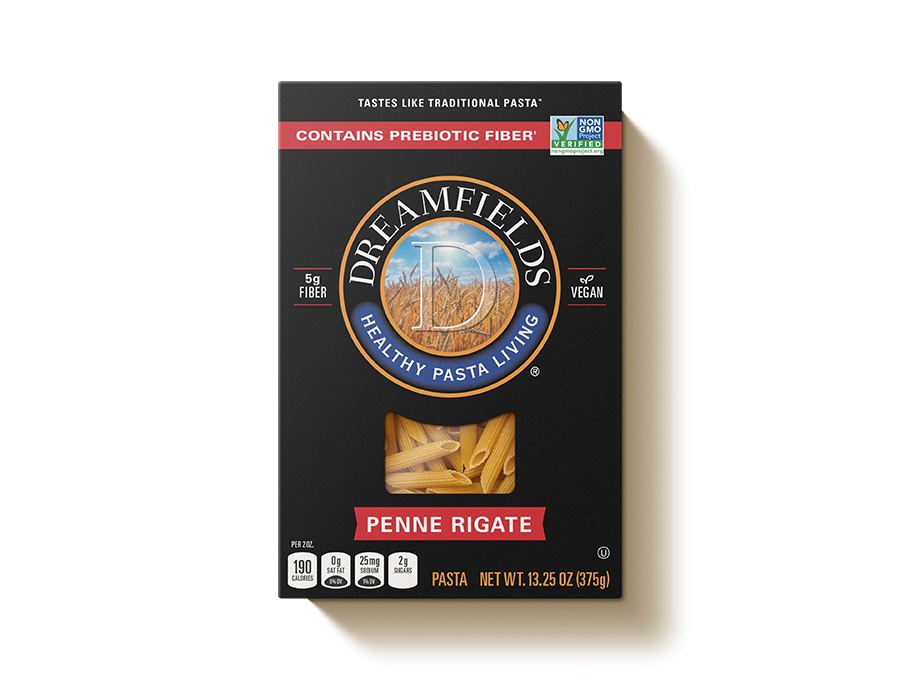 Ingredients
1 Dreamfields Penne Rigate
1/2 cup lime juice
1/2 cup dry white wine
1-1/2 cups fresh pineapple chunks (1/2-inch pieces), divided
1 cup fresh mango (1/2-inch pieces), divided
1/2 cup green onions chopped
1/2 cup fresh cilantro chopped
2 mahi-mahi or grouper fillets (8 to 10 ounces each)
4 tablespoons olive oil
2 small Thai red hot peppers or jalapeño peppers finely chopped
4 cloves garlic minced
1 15 oz can black beans rinsed, drained
cilantro chopped (optional)
Directions
For salsa, place lime juice, wine, 1 cup pineapple, 1/2 cup mango, green onions and cilantro in bowl of food processor or blender container. Pulse to coarsely chop and blend.
Wash mahi-mahi fillets; pat dry. Place 1/2 cup salsa in glass dish (or food-safe plastic bag); reserve remaining salsa. Add fish; turn to coat with salsa. Refrigerate, covered, 30 minutes.
Meanwhile, cook pasta according to package directions. Drain and return to pan.
Heat oil in large nonstick skillet over medium-high heat until hot. Add peppers and garlic; cook until sizzling, about 1 minute. Remove fish from salsa; pat dry. Place fish in skillet. Cook about 2 minutes until browned; turn and cook 2 minutes to sear on both sides. (Reduce heat if browning too quickly.) Pour reserved salsa around fish. Continue cooking 4 minutes or until cooked through (fish flakes easily when tested with fork). Remove fish from skillet; set aside. Add beans to skillet; cook until sauce is desired consistency, stirring occasionally. Remove from heat.
Add pasta to skillet; toss to combine. Add remaining pineapple and mango; toss to combine. Place fish on pasta; sprinkle with cilantro, if desired.
Nutrition Facts
483 Calories
70g Carbohydrates
2g Saturated Fat
159mg Sodium
11g Fat
27g Protein
55mg Cholesterol
11g Dietary Fiber
Find Dreamfields Pasta near you.

Find Dreamfields at your favorite grocery and retail stores nationwide. Also available online.

Find a store