Penne Rigate Recipes
Antipasto Pasta Salad
Course

Main Dish

Servings

Makes 6 Servings

Prep Time

20 minutes

Cooking Time

16 minutes

Total Time

36 minutes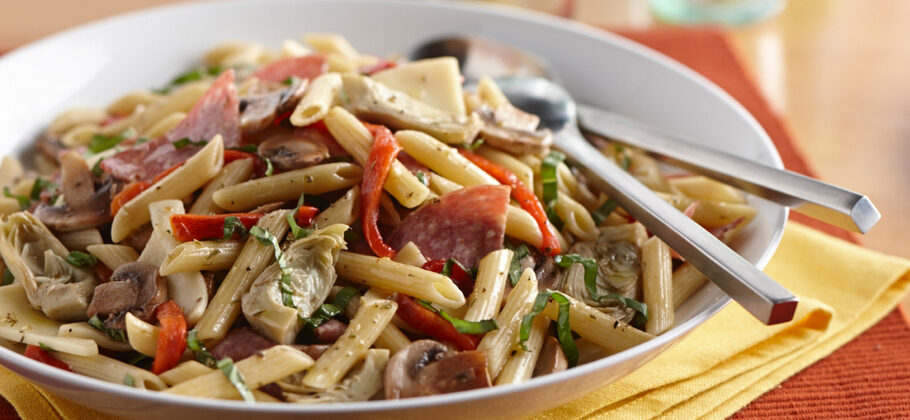 Created by Marlene Koch, RD, NY Times best-selling cookbook author

Made with
Dreamfields®
Penne Rigate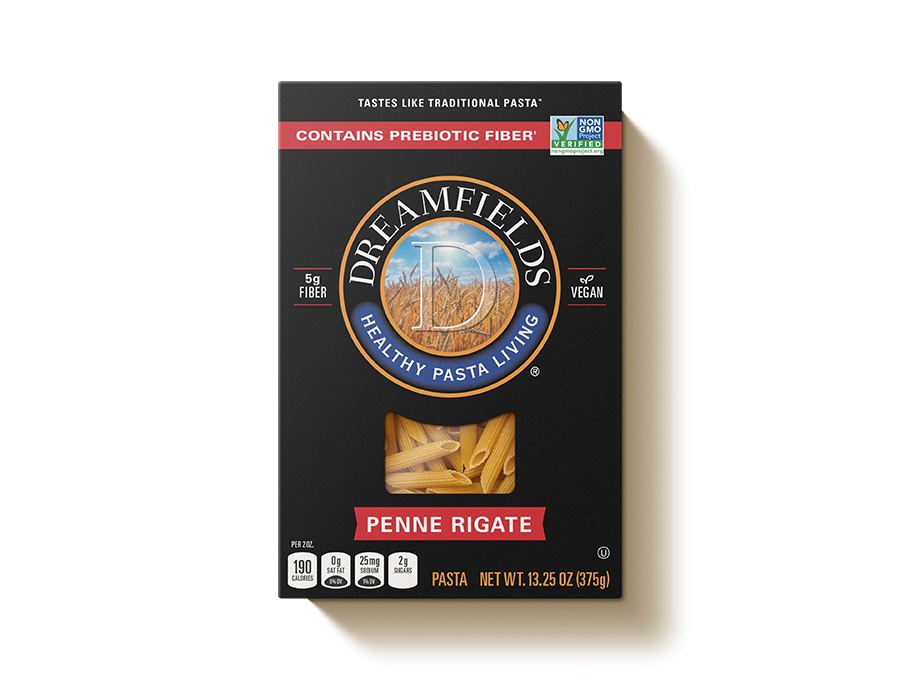 Ingredients
1/2 box Dreamfields Penne Rigate
2 cups fresh mushrooms sliced
1 8 oz package frozen artichoke hearts thawed, drained and quartered
4 slices reduced-fat provolone cheese
2 ounces light Italian salami sliced
1/2 cup roasted red peppers sliced
1/2 cup fresh basil leaves packed
1 sprig fresh basil (optional)
Ingredients Dressing
3 tablespoons olive oil
4 tablespoons white wine vinegar
1 teaspoon Dijon mustard
1 teaspoon dried oregano
1 teaspoon garlic minced (about 1 medium clove)
1/4 teaspoon black pepper (or to taste)
1/4 teaspoon salt (or to taste)
Directions
Cook pasta according to package directions; drain. Rinse pasta in cold water; drain again. Place in large bowl; set aside.
Meanwhile, for the dressing, in small bowl whisk together dressing ingredients.
Place mushrooms in medium microwave-safe bowl; cover with plastic wrap. Cook on High 1 minute, or until mushrooms begin to soften. Uncover; pour off any liquid. Add artichoke hearts to mushrooms; toss with 2 tablespoons dressing and set aside.
Stack provolone slices; cut into eighths to form triangles. Stack salami slices; cut into quarters. Add to pasta along with red peppers.
Stack basil leaves; roll up and slice into very thin strips. Top pasta salad with basil, marinated mushrooms and artichokes. Whisk dressing again; add to salad and lightly toss. Garnish with basil sprig, if desired.
Nutrition Facts
205 Calories
25g Carbohydrates
3g Saturated Fat
330mg Sodium
9g Fat
11g Protein
15mg Cholesterol
4g Dietary Fiber
Find Dreamfields Pasta near you.

Find Dreamfields at your favorite grocery and retail stores nationwide. Also available online.

Find a store