Angel Hair Recipes
Angel Hair with Chicken Scampi
Course

Main Dish

Servings

Makes 6 Servings

Prep Time

20 minutes

Cooking Time

40 minutes

Total Time

1 hour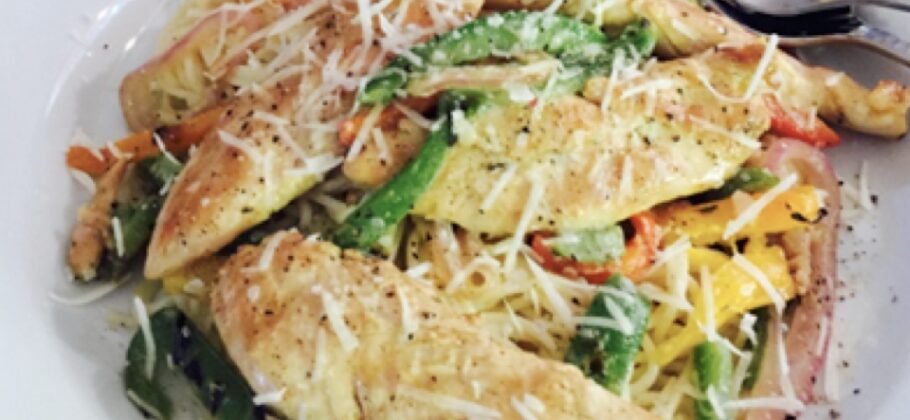 Made with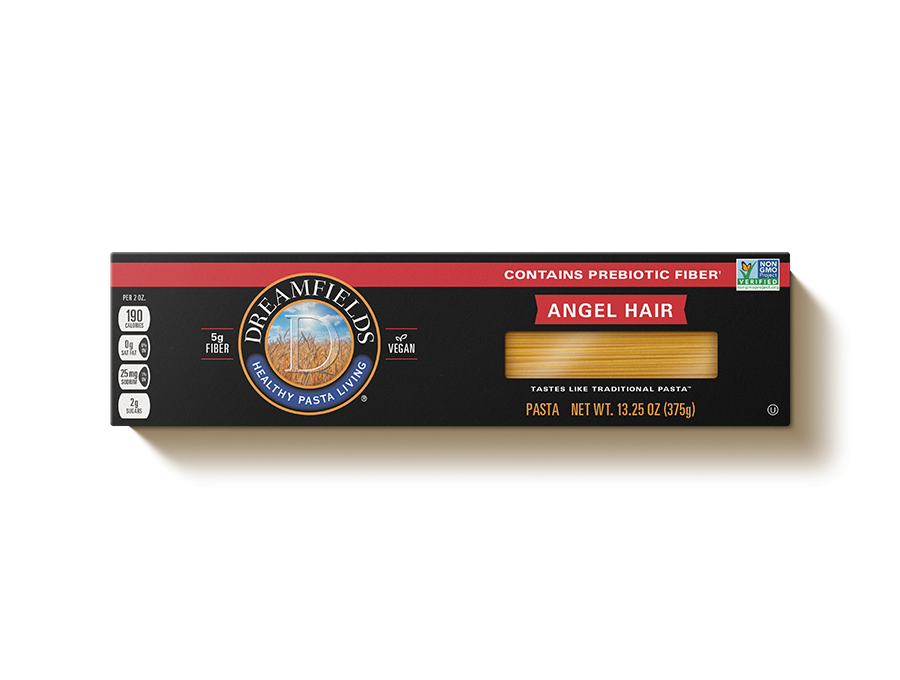 Dreamfields®
Angel Hair
Ingredients
1 box Dreamfields Angel Hair Pasta
1 small red bell pepper
1 small green bell pepper
1 small yellow bell pepper
6 tablespoons extra virgin olive oil
1 medium red onion peeled, sliced into rings
1-1/2 pounds chicken tenders (or breast meat cut into strips)
1/2 teaspoon coarse sea salt
1/2 teaspoon black pepper fresh-cracked
4 tablespoons unsalted butter divided
1 cup low-sodium chicken broth (or stock)
1/2 cup heavy cream
1 medium lemon zested and juiced
3 cloves garlic thinly sliced
Parmesan cheese finely grated (optional)
Directions
Blister peppers over open flame, grill or under broiler until skin is charred and soft. Remove peppers from heat and gently rub away charred skin with dry paper towel. Slice peppers into strips; transfer to plate and set aside.
Heat oil in large skillet over medium-high heat until hot. Add onion; cook 8 to 10 minutes or until soft, stirring frequently. Remove onion; transfer to plate with peppers.
Add chicken to skillet. Sprinkle with salt and pepper. Cook chicken 10 minutes or until golden brown and cooked through, turning once. Remove chicken from skillet.
Meanwhile, cook pasta according to package directions. Reserve 3/4 cup cooking liquid before draining. Add reserved cooking liquid, plus 2 tablespoons of the butter to pasta; toss with fork to separate. Cover to keep pasta warm.
Increase skillet heat to medium-high. Add chicken broth, stirring and scraping bottom of skillet with wooden spoon to remove any browned bits. Reduce heat to low and simmer 3 to 5 minutes until liquid is reduced by half; stir in cream, lemon zest, garlic and remaining 2 tablespoons butter.
When butter has melted, add peppers, onion and chicken to skillet. Stir to coat chicken and vegetables with sauce; cook 3 to 5 minutes or until chicken is heated through. Plate pasta, then top with chicken scampi and sauce. Finish with a squeeze of fresh lemon juice and garnish with Parmesan cheese and salt and pepper, as desired.
Nutrition Facts
620 Calories
52g Carbohydrates
0g Saturated Fat
290mg Sodium
33g Fat
34g Protein
115mg Cholesterol
0g Dietary Fiber
Find Dreamfields Pasta near you.

Find Dreamfields at your favorite grocery and retail stores nationwide. Also available online.

Find a store