Angel Hair Recipes
Angel Hair Ramen with Shiitake Mushrooms
Course

Main Dish

Servings

Makes 4 Servings

Prep Time

20 Minutes

Cooking Time

20 Minutes

Total Time

40 Minutes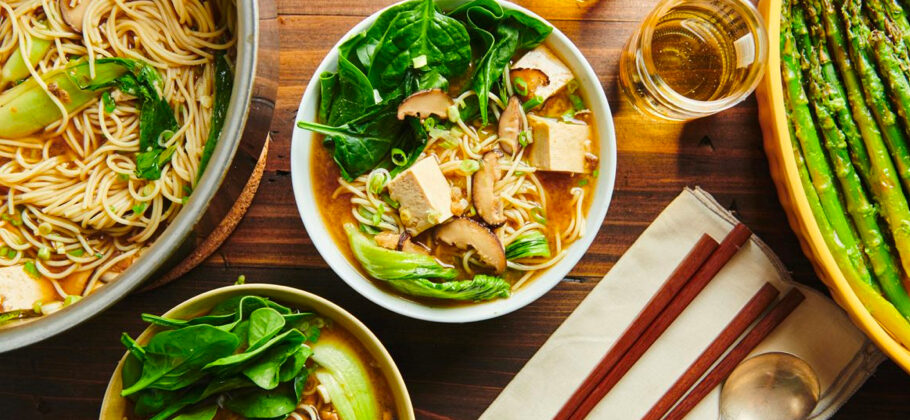 Made with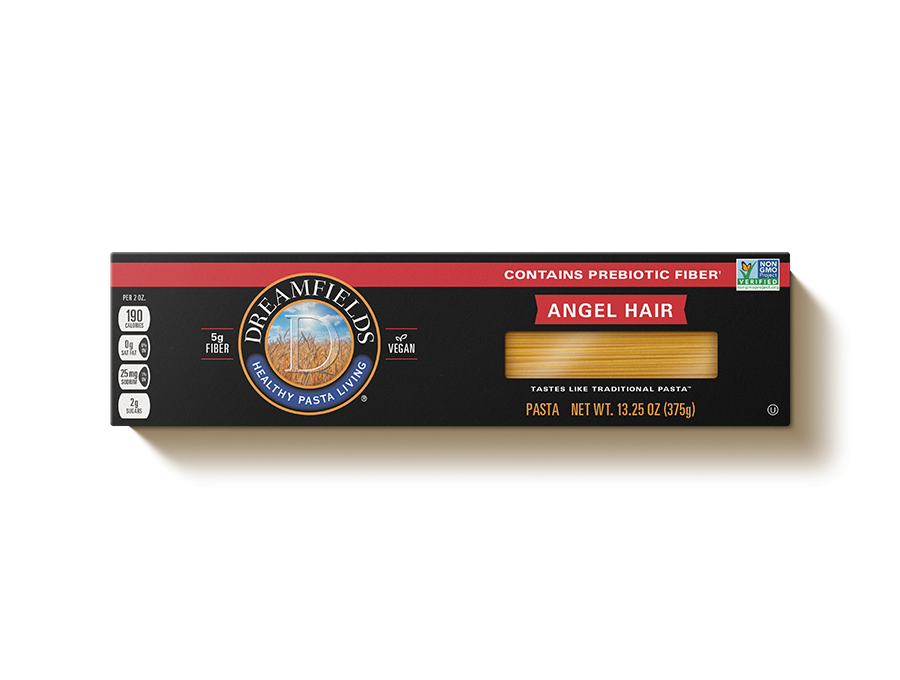 Dreamfields®
Angel Hair
Ingredients
1/2 ounce dried mushrooms
1/2 ounce kosher salt
1/2 box Dreamfields Angel Hair just over 6 ounces
1 tablespoon vegetable oil
1/2 pound sliced shiitake mushrooms
1/2 pound baby bok choy bottoms trimmed, sliced into quarters lengthwise
1 tablespoon garlic minced
1 tablespoon fresh ginger minced
2 tablespoons mirin optional
8 cups vegetable
1 tablespoons white miso paste optional
1/2 pound tofu soft or firm, cut into 1inch squares
2 tablespoons low-sodium soy sauce
2 teaspoons sesame oil spicy or regular, or to taste (plus more for serving)
3/4 cup sliced scallions divided
1 cup baby spinach leaves
To Taste Sriracha or other hotsauce
To Taste fresh cilantro
Additional spicy sesame oil or lightly crushed peanuts to serve
Directions
Place dried mushrooms in small bowl. Pour 1 cup very hot water over mushrooms. Let steep 20 minutes.
Meanwhile, cook pasta according to package directions. Hold pasta in strainer or colander.
Heat oil in the same pot over medium-high heat. Add shiitake mushrooms. Sauté about 6 minutes, or until golden brown and tender. Add bok choy and sauté 1 minute. Add garlic and ginger; sauté 1 minute or until fragrant. Add mirin, if using, and stir, then add stock and miso (if using). Increase heat and bring to boil; reduce heat to simmer. Mince soaked mushrooms. Add them and their soaking liquid to pot with cooked mushroom mixture.
Add tofu; cook 1 minute until tofu is heated through. Stir in soy sauce and 2 teaspoons sesame oil.
Remove pot from heat. Add drained pasta and ½ cup of the sliced scallions. Tuck 1/4 cup of the baby spinach down into side of each of the bowls, submerging it in the broth. Serve hot, with hot sauce, cilantro, sesame oil, and/or peanuts, as desired.
Notes: 2 cups cooked small to medium shrimp or cubed cook chicken can be substituted for the tofu.
Nutrition Facts
320 Calories
48g Carbohydrates
1g Saturated Fat
450mg Sodium
9g Fat
17g Protein
0mg Cholesterol
7g Dietary Fiber
Find Dreamfields Pasta near you.

Find Dreamfields at your favorite grocery and retail stores nationwide. Also available online.

Find a store