Angel Hair Recipes
Angel Hair con Tilapia
Course

Main Dish

Servings

Makes 6 Servings

Prep Time

20 minutes

Cooking Time

16 minutes

Total Time

36 minutes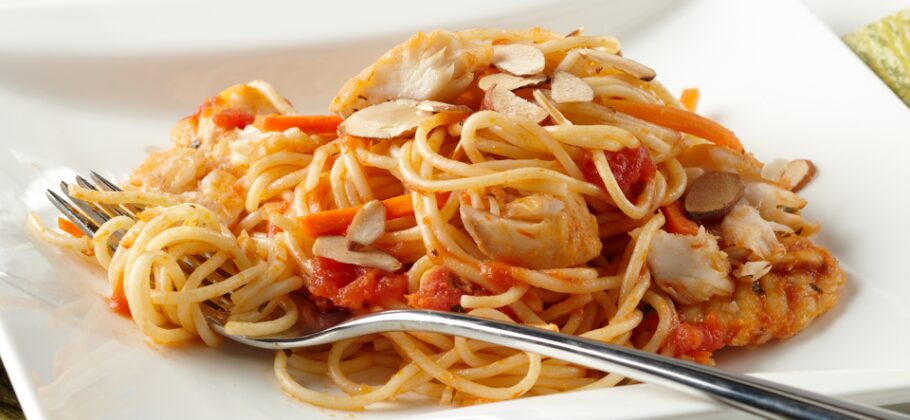 From the kitchen of Dreamfields Pasta

Made with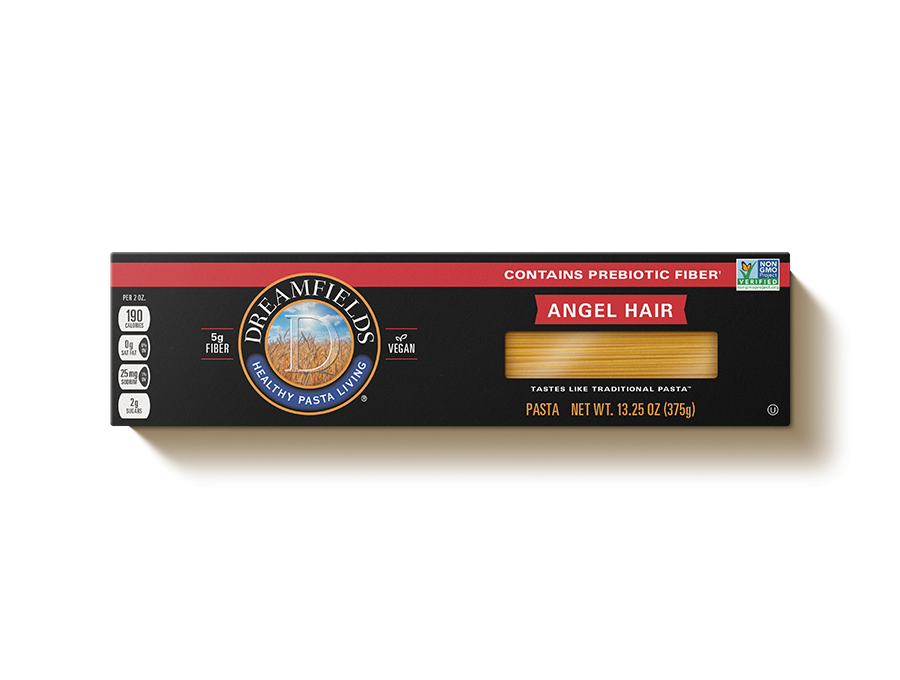 Dreamfields®
Angel Hair
Ingredients
1 box Dreamfields Angel Hair Pasta
2 tablespoons olive oil
1/2 cup green onion chopped
2 tablespoons fresh parsley chopped
1 tablespoon garlic minced
1/2 cup carrots julienne or thickly shredded
1/2-1 teaspoon crushed red pepper flakes
1 cup marinara sauce
2 tablespoons fresh basil sliced
1 pound tilapia fillets (2 to 4 fillets)
1/4 cup fresh lemon juice
1/2 cup dry white wine
1/2 cup Parmesan cheese shredded
1/4 cup sliced almonds toasted
salt and pepper
Directions
Heat oil in large nonstick skillet over medium-high heat until hot. Add onion, parsley, garlic and carrots; stir well. Add red pepper flakes, salt and pepper. Continue cooking about 5 minutes, until onion is browned, stirring frequently. Add marinara sauce and fresh basil. Cook 4 minutes, stirring occasionally.
Meanwhile, cook pasta according to package directions.
Place tilapia fillets in skillet. Pour lemon juice and wine over fish. Cook 2 minutes; turn carefully with spatula. Continue cooking 2 minutes or until cooked through (fish flakes easily when tested with fork). Remove from heat. Remove fish from skillet. Cut into 1-inch wide pieces.
Drain pasta; toss pasta with sauce in skillet. Gently stir in fish. Top with Parmesan cheese and toasted almonds.
Note: To toast almonds, spread on rimmed baking pan. Place in 350°F oven 8 minutes or until lightly browned, stirring occasionally. Remove from oven; cool completely.
Nutrition Facts
440 Calories
55g Carbohydrates
3g Saturated Fat
325mg Sodium
12g Fat
28g Protein
39mg Cholesterol
8g Dietary Fiber
Find Dreamfields Pasta near you.

Find Dreamfields at your favorite grocery and retail stores nationwide. Also available online.

Find a store