Angel Hair Recipes
Angel Hair and Honey Butternut Squash
Course

Main Dish

Servings

Makes 8 Servings

Prep Time

15 minutes

Cooking Time

25 minutes

Total Time

40 minutes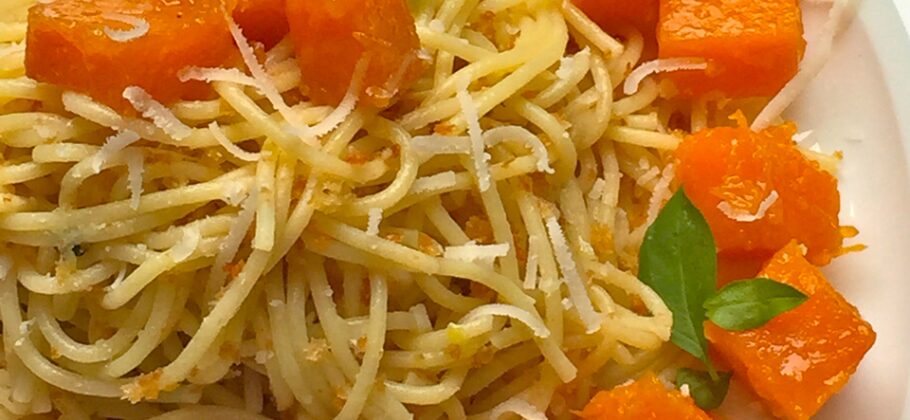 Made with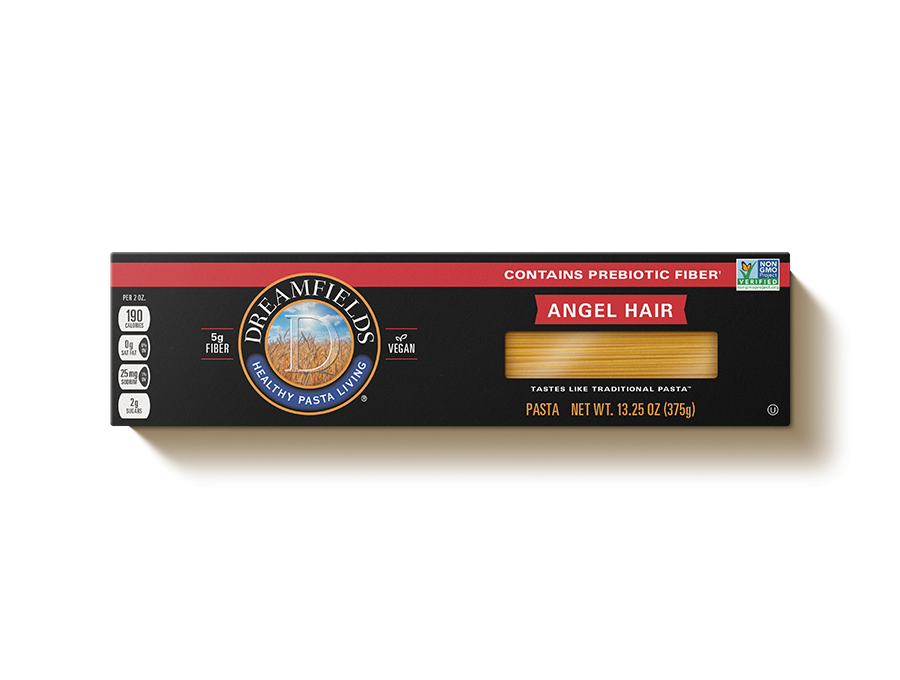 Dreamfields®
Angel Hair
Ingredients
1 box Dreamfields Angel Hair Pasta
6 tablespoons extra virgin olive oil
1-1/2 cups panko bread crumbs
2 tablespoons pine nuts
2 tablespoons honey
3 tablespoons unsalted butter
1/4 teaspoon nutmeg
1-1/2 pounds butternut squash peeled, cut into 1-inch cubes
3 cloves garlic minced
1 zest of lemon + 2 tablespoons of lemon juice
1/2 teaspoon coarse sea salt
1/2 teaspoon black pepper fresh-cracked
6 leaves fresh basil chopped
1/4 cup Parmesan cheese finely grated
fresh lemon juice (optional)
basil chopped (optional)
Directions
Combine 2 tablespoons olive oil with panko and pine nuts in heavy skillet. Toss to combine. Toast over medium heat, stirring constantly until panko and pine nuts turn golden brown, about 8-10 minutes. Transfer mixture to bowl.
Wipe skillet clean and return to stove over medium heat. Add honey and butter. After butter and honey melt, add nutmeg and whisk until mixture just begins to bubble around edges. Reduce heat to medium-low, add cubed butternut squash and stir to coat. Sauté squash over medium-low heat stirring occasionally, until squash is fork-tender, about 12-14 minutes.
While squash cooks; in small saucepan, combine remaining 4 tablespoons of olive oil and minced garlic; cook over low heat to infuse oil and gently cook garlic, about 10 minutes.

While oil infuses bring 6 quarts of cold water to a boil in large stockpot. Add pasta and cook until al dente, about 5 minutes. Drain pasta very well and transfer to large bowl.

Remove infused oil from heat, stir in lemon zest and lemon juice; season with salt and pepper. Sprinkle pasta with chopped basil leaves and drizzle with infused oil. Toss to separate pasta then add toasted panko and pine nut mixture. Using tongs or two large forks, gently toss everything together.
Mound pasta into haystacks onto serving dishes. Spoon sautéed honey butternut squash onto/around pasta and top with finely grated Parmesan. Finish with a squeeze of fresh lemon juice and garnish with additional chopped basil, if desired.
Nutrition Facts
440 Calories
64g Carbohydrates
5g Saturated Fat
230mg Sodium
18g Fat
11g Protein
15mg Cholesterol
7g Dietary Fiber
Find Dreamfields Pasta near you.

Find Dreamfields at your favorite grocery and retail stores nationwide. Also available online.

Find a store